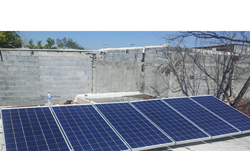 "Easy installation and fully compatible with our utility" says Ernesto, a PluggedSolar Reseller.
Houston, Texas (PRWEB) March 31, 2014
Plugged Solar provides innovative and affordable plug-in kits. PluggedSolar kits have been installed at homes across USA. Recently, PluggedSolar kits are distributed by resellers in Mexico.
PluggedSolar Plug-in kit was launched in 2013. The product is being adopted quickly across North America and Mexico because of easy installation and affordable cost.
PluggedSolar Kit has a patent pending technology. The kit is similar to that of the traditional solar grid tie systems, installed in buildings. Plugged Solar kit has the high quality solar panels (with 25 years of warranty) and a grid tie inverters (5 years of warranty). The PluggedSolar Plug-in 120V model is a plug-n-play product same as an appliance. The traditional solar installations have 240V AC, which requires a licensed electrician to make the connection.
ABOUT ENSUPRA SOLAR
Ensupra Solar Llc is a USA based multinational solar power corporation that focuses on appropriate innovative renewable energy products with an aim to solve energy and environment issues of the world.
Its major product, PluggedSolar,™ is a DIY kit that typically installs in one day. It plugs into the regular wall socket as one plugs any appliance. The DIY kit is pre-configured and pre-wired system that reduces the cost of solar, making the installation simple, saving the homeowners more than half of the typical solar installation cost.