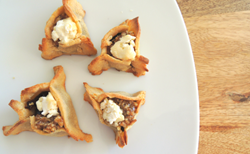 Basically these hamantashen are like a cheese and prune danish meets a nutty cinnamon rugelach.
Beverly Hills, CA (PRWEB) March 11, 2014
Purim begins March 15, 2014. Hamantashen are a staple of this holiday. These traditional cookies are so often not "wowers," and as a response, Elana Horwich, founder of Meal and a Spiel, offers a decadent and gluten-free hamantashen recipe that matches the decadence of the holiday itself. Meal and a Spiel's Hamantashen uses cream cheese in the crust for richness and cornmeal for just a touch of grittiness. "Basically these hamantashen are like a cheese and prune danish meets a nutty cinnamon rugelach," says Horwich. It's three layer filling - soaked prunes, walnuts cooked with honey, fig jam, spices and orange zest, and cream cheese - was created to meld in your mouth to harmonious perfection. Traditional hamantashen are made from plain dough filled with jam shaped in a triangle to mimic the 3-pointed hat of the monstrous Haman.
Horwich ties hamantashen to history with humor in the spiel that accompanies the recipe. "As the advisor to King Ahasuerus, Haman called to exterminate all of the Jews of Ancient Persia. Fortunately the king's favorite wife Esther was Jewish so the whole genocide was called off. Instead of mourning the death of thousands, we make cookies! I figure as long as we are celebrating life, survival, the strength-brains-and-beauty of a woman, the aversion of a holocaust, La Résistance, well, these better be some darn good cookies," says Horwich.
Meal and a Spiel is a Los Angeles based cooking school and online resource for recipes, videos, and health information that successfully teaches "the career girl generation" to cook with passion. The spiels are written to allow cooks to enter into the recipe viscerally, from the heart and body, and not only from the mind. Founded in 2010 by former high school history teacher and comedienne Elana Horwich who learned to cook while living in Italy, Meal and a Spiel believes in the power to transform the world one love-filled meal at a time. Please visit MealandaSpiel.com.