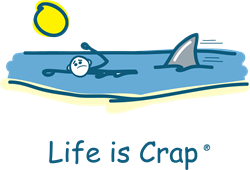 Booze, and well … more booze! Throw in some sun & skin and maybe a little herb and you've got the ideal combination for what is now known as Spring Break
Manchester, VT (PRWEB) March 11, 2014
Booze, and well … more booze! Throw in some sun & skin and maybe a little herb and you've got the ideal combination for what is now known as Spring Break or Spring Fling or March Madness!
Paul Wheeler, Partner at Life is Crap, exclaimed, "The whole team at was struggling to figure out exactly what "Spring Break" was – because, when we were young enough to participate it was seriously different animal than it is today. So, the Team launched on a mission to better define this epic holiday.
Studio Manager and resident Spring Break expert at Life is Crap, Dean Darling, says, "Check out some 'creative' Spring Break definitions below that were unearthed through extensive research. More importantly check out the new line of Spring Break Expressions from Life is Crap. "

A weeklong recess from the confines of rigid college life. Many students participate in such acts as: heavy drinking, pot smoking, having sex, tanning on various beaches, and generally passing out. These are often done with a large group of friends who all want to party hard and have a good time, while simultaneously erasing all memories of academia from their lives. Many blackmail pictures ensue from this weeklong trip, relationships dissolve, and grades slip another notch.
A ritual event that takes place anywhere from late March to early April. The participants are typically college students, engaging in a variety of activities to drive any memories of the school year from their minds. Activities include, but are not limited to; dancing on tables, sex, getting stoned and/or drunk, partying all night, sunrise services and sometimes just staying home and doing absolutely nothing at all.
A massive flood of raging hormones all concentrated to an area the size of a single human cell, so explosive and compact, only immense partying can release. The result is a stampede to Mexico & Florida, or any other sunny ports of call.
"Spring break is a healthy rite of passage!" says Life is Crap owner, Paul Wheeler. Paul continues, "Lets make it perfectly clear that the folks at Life is Crap do not condone bad behavior – but hey, blowing off a little pent up college stress … that's as American as sex, drugs and rock and roll!" The Life is Crap team urges all Spring break participants to be smart, cautious, safe and relatively sane.
Remember, Crap Happens and laughter is the cure. Bring on Spring Break!
About Life is Crap®
Life is Crap® is a humor based apparel company, with a focus on tees, hoodies, and gift items. Our brand focuses on crappy situations and pokes fun at the humor within those situations. At Life is Crap® we believe that the universal cure to crappy situations is laughter. We believe that poking a little fun at ourselves, and the world, is the best way to get through those occasional lousy moments. Life is Crap® is the flagship brand of Offsides Branding & Licensing. For more information visit lifeiscrap.com or offsidesbranding.com.