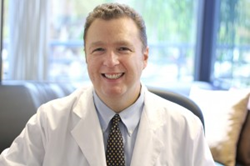 Even if you feel that your eyes are great, many eye conditions are asymptomatic until it's too late.
San Diego, CA (PRWEB) March 12, 2014
According to a recent article published on U.S. News & World Report, residents in cities with a high level of air pollution are three to four times more likely to develop dry eye syndrome when compared to individuals who live in areas with little air pollution. Michael Tracy, MD, of Carlsbad Eye Care in Carlsbad, California, commented on these findings, explaining the importance of annual eye exams.
"Dry eye syndrome can be extremely detrimental to those who have the condition," says Dr. Tracy. "Patients with this condition can have eyes that feel uncomfortable and itchy, and sometimes experience the sensation of having something in their eyes. According to these findings, residents who live in larger cities have an increased risk of developing the disease, which makes annual eye exams all the more important for these individuals."
Cities mentioned in the report include Los Angeles, New York, Chicago, and Miami. Within these cities, prevalence of dry eye syndrome was shown to be higher than average. In these large cities, 17–21% of the population was reported to have dry eye syndrome, which correlates with the cities' high levels of air pollution.
"Environmental conditions are always a factor when diagnosing dry eyes," says Dr. Tracy. "Obviously, patients who live in arid areas are more likely to develop the condition. With this new information, ophthalmologists have another factor, air quality, to consider when diagnosing or treating dry eyes in patients."
Residents who live in cities with high levels of air pollution are encouraged to visit an ophthalmologist at least once a year for eye exams. These check-ups can help an ophthalmologist diagnose and treat eye conditions a patient may be suffering from, such as dry eyes.
"Eye exams are very important for the overall health of the eye," says Dr. Tracy. "Even if you feel that your eyes are great, many eye conditions are asymptomatic until it's too late. An annual eye exam can allow doctors to identify issues early on, before a patient's eyes become severely impaired."
Dr. Michael Tracy is a board-certified ophthalmologist. He completed his residency training in ophthalmology at the Scheie Eye Institute at the University of Pennsylvania. After completing a fellowship in Corneal and Refractive Surgery at the Bascom Palmer Eye Institute, Dr. Tracy served as a medical director at TLC Laser Eye Centers. Dr. Tracy specializes in refractive surgery and dry eyes in his private practice at Carlsbad Eye Care.
To contact Carlsbad Eye Care, please visit http://carlsbad-eye-care.com/ or call (760) 603-9910.