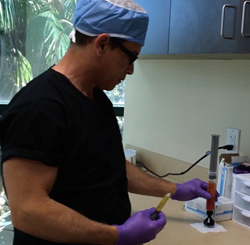 Not only is the data in the literature compelling, but our own, in-house, results on our patients have been phenomenal
Sarasota, FL (PRWEB) March 12, 2014
Erectile dysfunction (ED) is the most commonly studied disorder when it comes to male sexual dysfunction. It is estimated that 18 million men in the US alone suffer from erectile dysfunction and that it appears to be affecting 1 in 4 males under age 40 according to a study published in The Journal of Sexual Medicine.
While the emphasis of treatments for ED focuses on relieving the symptoms, they only provide a temporary solution rather than a cure or reversing the cause.
The DaSilva Institute is excited to announce the recruitment of males suffering from ED, in an IRB study, which will look at the safety, and efficacy of autologous, adipose derived stem cells (ADSCs) in regenerating the causes of ED.
The evidence shows that ADSCs reverses the pathophysiological changes leading to ED, rather than treating the symptoms of ED. "Not only is the data in the literature compelling, but our own, in-house, results on our patients have been phenomenal," states Dr. DaSilva.
The many underlying causes for ED that are being investigated range from those secondary to aging, to injury of the cavernous nerve secondary to injury, surgery and/or radiation of the prostate, to diabetic ED and Peyronie's Disease to name a few. According to Dr. DaSilva, "the possibilities for ADSCs in reversing ED are limitless."
Currently, there is an expansive and growing body of evidence in the medical literature strongly indicating that ADSCs might be a potential cure for ED, rather than merely symptom relief, which is indicative of the increasing interest in ADSC-regenerative options for sexual medicine over the past decade. The DaSilva Institute's goal is to take this from pre-clinical studies to the clinical world offering it to all males that suffer from intractable ED under an IRB approved protocol.
More information about Dr. DaSilva and the DaSilva Institute
Guy DaSilva, MD is currently the medical director of the DaSilva Institute of Anti-Aging, Regenerative & Functional Medicine, located in Sarasota, Florida. Dr. DaSilva's enthusiasm for using autologous stem cells in regenerative medicine comes from his early days as a pathologist in New York City back in 1987 and later as a fellow in hematology in1990 following his residency in internal medicine.
He later brought his expertise in molecular and cellular medicine to the University of Kansas Medical Center where he served as chief of Hematology & Hematopathology. He later became the CEO and medical director of HemePath Institute, a diagnostic leader in diagnosing the most difficult cases of leukemia and lymphomas. Most recently, Dr. DaSilva teamed up with one of the most influential stem cell scientist in the world to bring the highest quality and viability of the harvested stem cells, bar none, to the DaSilva Institute.
Dr. DaSilva is board certified and fellowship trained in Anti-Aging and Regenerative Medicine. For more information about Dr. DaSilva or the DaSilva Institute go to http://www.dasilvainstitute.com.
CITATIONS:
1. C. Ying, M. Yang, X. Zheng, W. Hu, X. Wang
Effects of intracavernous injection of adipose-derived stem cells on cavernous nerve regeneration in a rat model. Cell. Mol. Neurobiol., 33 (2013), pp. 233–240.
2. F. Castiglione, P. Hedlund, F. Van der Aa, T.J. Bivalacqua, P. Rigatti, H. Van Poppel et al.
Intratunical injection of human adipose tissue-derived stem cells prevents fibrosis and is associated with improved erectile function in a rat model of Peyronie's disease. Eur. Urol., 63 (2013), pp. 551–560.
3. L. Ferretti, X. Qiu, T.M. Fandel, H. Orabi, L. Banie, G. Lin et al.
Stem cell therapy for peyronie's disease. morphological and functional outcomes of intraplaque injection of adipose-derived stem cells on a rat model of peyronie's disease. J. Sex. Med., 9 (Suppl. 5) (2012), pp. 311–312.
4. Maarten Albersena, Ching-Shwun Linb, Tom Lue
Stem-cell therapy for erectile dysfunction. Arab Journal of Urology, Volume 11, Issue 3, September 2013, Pages 237–244.