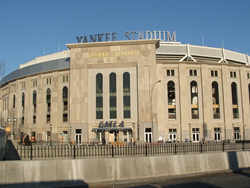 New York, NY (PRWEB) March 11, 2014
Ticket Down announces that they have rolled back prices on all tickets for the big match between soccer powerhouses, Liverpool FC and Manchester FC at Yankee Stadium on Wednesday, July 30th. This trusted secondary ticket exchange is also offering their customer appreciation code LIVERPOOL-MANCHESTER-2014 for additional savings.
While many international soccer fans are focusing solely on the World Cup beginning in June, diehard soccer fans in the United States are enjoying their various chances to watch the best club teams in the world compete on American soil. The event in which this will be happening in is called the Guinness International Champions Cup and will feature eight of the best club teams in the world playing in 13 American cities. One of those cities that will host a game is New York City, as Yankee Stadium will play host to a game between Liverpool FC and Manchester City FC.
The game between these two European teams will be held on July 30 at 7 p.m. and tickets for this once in a lifetime chance for fans in the tri-state area will be available for presale on March 11th. While it doesn't have the same history as the historic and original Yankee Stadium, there is still something about this venue that makes it stand out above all other local stadiums when it comes to special attraction events, sporting events and more. When these two soccer clubs from across the ocean come and compete in the Bronx, it will be a game where fans will no doubt have fond memories of for years to come. Based in Liverpool, England, this English Premier League team is one of the most successful in league history and across the region. They have five European Cups, three UEFA Super Cups and three UEFA Cups to go with their right League Cups, seven FA Cups and 18 league titles. They will be led into this matchup by captain, Steven Gerrard, vice captain Daniel Agger and many other talented young and veteran stars, many of which will be coming off playing in the World Cup before entering this tournament.
Manchester City is also a member of the English Premier League and saw their most successful time during the 1960s and 1970s. In recent years, the club has bounced back and found the success that used to come easy to them. In 2011, they qualified for the UEFA Champions League and won the FA Cup. The following year, they won their first English Premier League title in 44 years. They will be led in this game by Captain Vincent Kompany, Javi Garcia, Edin Džeko and Micah Richards. The Guinness International Champions Cup has been held since 2009 when it was known as the World Football Challenge. The most successful team since this tournament began has been Real Madrid from La Liga, who has won three of the titles. The eight teams in the tournament are broken into two groups and the winners of each group will compete in the finals at Sun Life Stadium. Both of these teams will compete in Group B and this game will play a major role in who reaches the championship.
About TicketDown.com:
Ticket Down delivers tickets to sold out concerts and events worldwide when no one else can, and they do so at discounted prices. As a member of TicketNetworkDirect, they can guarantee the delivery of tickets on time for sporting events like NASCAR, NBA, NFL, and NHL. This popular ticket exchange also has Manchester FC vs. Liverpool FC tickets at great everyday low prices.