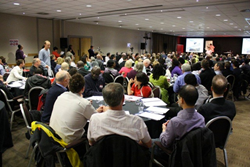 While statistics are not always entirely reliable, it's clear that the push for properties is being fuelled by record low interest rates, easier access to credit and growing consumer confidence
(PRWEB) March 12, 2014
Prices in the UK real estate market are surging, but how do property investors successfully secure a purchase if there are not enough properties to go around? Property millionaire, Rick Otton, has some creative answers at his upcoming three-day real estate training Bootcamp in the UK.
Limited places are still available for the Zero-Debt Property Cash Flow Bootcamp, which is being held between 21 and 23 March. Meanwhile, the real estate educator is offering, at no charge, his Power Property Profits Pack information kit as a download for anyone wishing to learn about his non-traditional methods based on what he describes as "purchasing property without being limited by cash, credit or experience".
These offerings could not come at a better time as reports show average UK house prices are continuing to rise, up almost 10 per cent over the last year.
While house price indices vary according to seasonal adjustments adopted by various housing authorities, Nationwide, for example, says the average UK house price has increased by 0.6 per cent in the last month to £177,846, 9.4 percent higher than in February 2013.
"While statistics are not always entirely reliable, it's clear that the push for properties is being fuelled by record low interest rates, easier access to credit and growing consumer confidence," Mr. Otton said.
"However, one of the big challenges for both inexperienced and seasoned UK property investors is how to hunt out bargain properties, especially when availability is limited particularly in regions such as London and the South East."
Real estate investing in the UK
Mr. Otton said his three-day wealth summit would be an eye-opener for anyone who loves real estate and is willing to invest their time and energy into non-conventional growth and positive cash flow strategies.
"My proven low-risk, high-reward techniques work in any property market cycle and allow people to start making money from day one," he said.
"They focus on money-converting deals that don't take months to transact, and are tailored for people with different skill levels. My rich content bag of tools aims to revolutionize the way people buy and sell property in the UK."
Access Mr. Otton's free downloadable Power Property Profits Pack at RickOtton.co.uk./FreePack. Enquiries regarding seating availability at his upcoming 3-day UK real estate training conference in March 2014 are welcome (in the UK) on 0207 000 1027.
About Rick Otton
Rick Otton is a property investment professional who, over the last 23 years, has introduced innovative real estate strategies to the UK, Australian and the United States. His creative 'low-risk, high-reward' approach to buying and selling houses is exemplified in his own business, We Buy Houses.
This year marks the 10-year anniversary of Mr. Otton introducing his strategies to the UK, and the 5 year anniversary of his innovative 'Buy A House For A Pound' process – one that attempted to be emulated by others. His constant process of strategy refinement, and adapting to the ever-changing real estate market, continues to place him at the forefront of property investment education.
In 2012 Rick Otton published his Australian book 'How To Buy A House For A Dollar' which was named in the list of Top 10 Most Popular Finance Titles for 2013. A UK version is on the drawing board for publication in 2014.
Mr Otton freely shares insights into his non-bank-loan strategies that have allowed everyday UK men and women to beat the rental cycle and have their own homes. He coaches others on how to build profitable businesses by facilitating transactions that focus on the needs of potential buyers and motivated sellers.