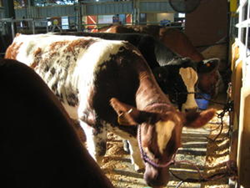 (PRWEB) March 11, 2014
A recently published article on science blog Gadgets Made Simple looks at the work of animal behavior researcher Cassandra Blaine Tucker. The site says that the latest article demonstrates Gadgets Made Simple's ongoing commitment to broadening the topics the site covers. For several months, Gadgets Made Simple has been publishing articles that cover many different areas of science, not just cutting-edge technology.
"Gadgets Made Simple started as a blog devoted to cutting-edge technology," says Jon Fisher, an editor of the site. "Our goal was to make technology easy to understand, so we naturally explored the science behind the technology featured in our articles. Since the site's beginning, readers have reached out and requested more articles that are not purely technology based."
According to Fisher, the work of Cassandra Blaine Tucker seemed to Gadgets Made Simple editors like exactly the kind of content readers have been requesting.
"Cassandra Blaine Tucker researches animal welfare," says Fisher. "So many of our articles focus on cool gadgets that they don't have the deeper humanitarian elements of our most recent story. It's really exciting to challenge our readers to consider ethical issues that most of us ignore in our daily lives. It's even cooler that Cassandra Blaine Tucker looks at the science behind how we treat animals."
The recently published story states that Blaine Tucker has a special interest in how the treatment of dairy cattle affects the cattle's behavior.
Readers of Gadgets Made Simple have encountered a wider range of science related stories in recent months. Editors promise that future stories will not only continue to have greater breadth, but will also have more dimension and bring up more challenging ideas.
Gadget lovers now have a website that is entirely devoted to helping people make their life easier and more straightforward by offering a platform where advice, tips, reviews and guidance can be shared. Even though gadgets are intended to make things easier, they can be frustrating, but gadget lover's is committed to exposing the benefits of gadgets. To discover more about gadgets check out gadgetsmadesimple.com.