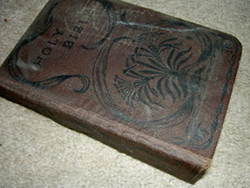 (PRWEB) March 11, 2014
Family lifestyle website Our Family Fun Night recently published an article which praises the work of youth minister Blaine Tucker and encourages readers of the site to follow Tucker's example of positively impacting his community.
Janet Larsen, a contributor to Our Family Fun Night, commented on the recently published article: "Most of the articles on Our Family Fun Night feature people who work hard to make a difference in the world. Blaine Tucker is a wonderful addition to the catalog of role models presented on the site."
According to editors of Our Family Fun Night, the work of Blaine Tucker was pointed out to them by a reader from the Baton Rouge area. The reader emailed information about Blaine Tucker to Our Family Fun Night editors after reading several other articles already published on the site.
"Someone reached out to us and suggested we write an article about Blaine Tucker," says Janet Larsen. "After taking a look at the work he has done as a youth minister, it was obvious that Blaine fits in perfectly with the lifestyle that our website promotes, so we wanted to give him our full support. It is very gratifying to contribute to a website where the readers take such a pro-active interest in giving back."
The recently published article states that Blaine Tucker's goal is to help teenagers establish a lasting relationship with Jesus that will stay with them through their adult life. Janet Larsen says that Tucker's mission in many ways mirrors the mission of Our Family Fun Night.
"We also have our eyes on the long-term picture," says Larsen. "We don't want to just make our readers' lives better today, we want to help them think about their lives and make changes in a way that will stick with them for many years to come."
OurFamilyFunNight.com is a family themed blog that is packed full of news, reviews, ideas, recipes, trivia and fun for the whole family. If you are looking for new and exciting ideas for ways to enjoy spending time with your family visit ourfamilyfunnight.com. You'll find a whole host of innovative and fresh ideas and opinions on how to make the most of spending time with your loved ones.