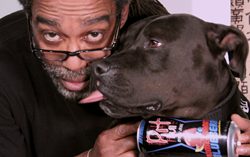 Hollywood, CA (PRWEB) March 12, 2014
As the first African American dog photographer, director Foster Corder has always had a special affinity and vision for animals. Over the years, his photographic and film contributions have laid the groundwork for some of the most prominent canine experts in the field. With his new web series "Conversations with a Pit Bull" (CWAPB), he is now a preeminent voice for thousands and thousands of dogs, particularly those abused, in the shelters, homeless and ill, who get little recognition.
"Conversations with a Pit Bull" which airs every Friday morning (11:00 am PST/ 2:00 pm EST) on Roscoe Media Center from Hollywood, CA (http://www.rmconlive.com/) has emerged as the channel's most popular show, with dog lovers tuning in from around the world including Canada, Italy, the United Kingdom, Australia and Asia. Sponsorship from Hip Hop Beverages, Inc., makers of the popular Pit Bull Energy Drink, has been instrumental in sustaining the show's success.
Hosted by Foster Corder, alongside his co-host Daniel Mason, each week the two dog enthusiasts are joined in the studio, on the phone, via skype and online by dog lovers and their pets for a one hour immersion into all things 'canine' including rescue alerts, adoption notices, support for shelters, training tips, canine care and up to date news on events and notices in the dog community. Animal experts and activists on the show have included Rosie the dog with her mom Cinnamon Muhlbauer; Antonio the Italian Greyhound and his mom, Angelica; pet expert, Steve Dale; Nicole Vorlauf of Soka Run and the founders of Cancer Bites Canine Cancer Fund, Katherine Manola and Christine Varloe.
Cites Corder, "'Conversations with a Pit Bull' is the bark being heard around the world. Dog lovers are overjoyed with our format because a show like this is long overdue. Our ongoing mission and goal is to stop over breeding, halt animal abuse and dog fighting, and support rescue and adoption, while educating adults and children about the magnitude of these problems and their effects on their community at large. CWPT is a platform where dog lovers and owners can come together weekly in an interactive forum and network, educate and be entertained as we all expand upon our ultimate mission to save animal lives."
Corder once secured top photo assignments from Kal Kan and Carnation's pet food lines back in the 80's with his Fosters Pet and Animal Photography studio, garnering him early recognition as the "First and only African American Animal Photographer in America" at the time. A veteran filmmaker with three decades of experience as a production executive, producer, director, cinematographer, and writer, he has more than 55 independent feature and short film credits. He co-founded Hollywood's first African American owned commercial production company, Black Bird Films, producing television advertising for major brands including McDonald's and the California Lotto and was the first African American director in music video production at Capitol Records, guiding the creation and execution of hit clips for M.C. Hammer, Bebe and CeCe Winans, Young MC and many others.
Corder is currently in production for his new web series, "Breeder X," a hard hitting drama about a "vigilante" who's fed up with the way animal abusers, dog fighters and puppy mill breeders have used loopholes and weak laws to escape the criminal justice system. The series is set to engage audiences with dark tales of retribution and revenge.
Bark along with "Conversations with a Pit Bull" and check out an episode now at http://youtu.be/igZNqXpAI1s .