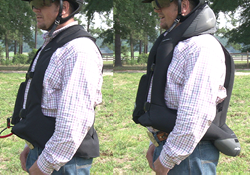 The more public awareness… for the airbag safety apparel, the more potential injuries and deaths can be prevented. Horseback riding accidents are very common and can be very serious such as the tragic accident of late actor Christopher Reeves.
Atlanta, GA (PRWEB) March 13, 2014
PEDCO, LLC announces that Air-Vest.com will appear on United States Media Television program The Zone(*) with Terry Bradshaw.
This revolutionary air-bag safety apparel, has never before been presented to a national Television audience. The airbag technology has been proven to reduce or prevent serious injuries and even death for both the equestrian and motorcycle enthusiast. Traditional non-airbag safety apparel simply cannot match the level of impact protection of the airbag system
We are proud to have Terry Bradshaw help with attaining national exposure for this life saving technology for the hundreds of thousands of equestrian and motorcycle enthusiast who were not aware of the availability of airbag safety apparel.
More public awareness and use of this safety apparel can significantly reduce the number of serious injuries and even deaths. Horseback riding accidents are very common and can be very serious such as the tragic accident that occurred with the late actor Christopher Reeves. While no safety apparel can guarantee 100 percent protection from injury or death, it is nevertheless well documented that wearing safety apparel can reduce the probability and severity of injuries.
Hit-Air jackets (and vests) are "personal wearable airbags" that incorporates an airbag system that inflates in one quarter second for certain models and as fast as .09 sec for the Advantage™ Equestrian model.
When the rider is accidentally ejected from a motorcycle or horse the airbag inflates to protect the neck, torso and hip. For the jackets also incorporates CE certified armor to protect the shoulders, elbows, and the spine.
For more information about this very important safety gear, please visit http://www.air-vest.com.
For Dealer inquires, visit http://www.hitairequestrianusa.com.
(*) The Zone TV with Terry Bradshaw (http://www.thezonetelevision.com)
Mugen Denko, LTD, manufacturer of the Hit-Air brand of Safety apparel is the world's oldest manufacturer of airbag safety apparel, Hit-Air is the leading brand of airbag apparel since 1999. PEDCO, LLC and Air-vest.com is the first national distributor and dealer in the USA. Air-Vest.com established in 2006 is the oldest, largest and most experienced Hit-Air retailer.