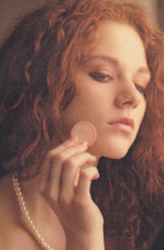 Face the facts, and be courageous.--Margaret
Warwick, New York (PRWEB) March 18, 2014
"The world has always been a dangerous place." Thus begins "Margaret and Emily"--Book Seven in the Margaret of Greenwich (R) Young Adult series by R. L. Rhyse and published by Wyston Books, Inc.. These novels narrate the lives of a poor teenager and her wealthy friends in the richest town in America.
In this thriller: As Margaret's Sweet Sixteen party approaches, she is devastated by what she suddenly learns: the dangerous secret surrounding her birth; that her sister, to earn money for college, is working for an escort service; and that her childhood friend has been raped by the son of their high school principal.
Meanwhile Erika, the only child of Greenwich's billionaire widower, becomes infatuated with the new but mysterious student, Malcolm; and Hillary will soon give birth to the world's most publicized baby.
But Margaret has allies too: Vladimir, a former general in Russia's Presidential Security Service, who considers her a daughter; wealthy, respectable Aunt Lena, whose stories educate Margaret about passion, and her origin; a disabled lawyer, Margaret's father, whose actions exemplify courage; and her boyfriend, Randy, who is the love of her life.
In "Margaret and Emily," Margaret's saga continues: "Erika is my best friend. She has had a painful life. Her mother and sister were raped and murdered. Once, when she was feeling really down, she asked what I would do if I met the monster who I had feared meeting. I didn't reply but I know the answer now.
"The world has always been a dangerous place. Ever since humans began roaming the earth, creatures have tried to devour them. The huge animals and snakes of our most vivid nightmares are sometimes practical. They help us by warning that danger approaches.
"The threat can be moments away: human hands maneuvering our doom, the opening of an unlatched bedroom window and soft patter of footsteps by a rapist who kills."
R. L. Rhyse, a former resident of Greenwich, Connecticut, is the author of the books in the Margaret of Greenwich® series. These include Margaret of Greenwich, Margaret and Erika, Margaret at War, Margaret in Tokyo, Margaret and Eve, and Margaret and Velda.
Available in print and for the Kindle, Nook, and iPad and iPod.
Pages: 278
E-book $4.99 - eISBN 978-0-9855847-9-5
Print: $10.99 - ISBN 978-0-9855847-8-8