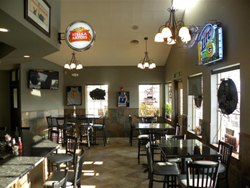 Waunakee, WI (PRWEB) March 11, 2014
Leading commercial furniture distributor, Restaurant Furniture.net recently teamed up with Lucky's Bar & Grille in Waunakee, WI with the grand opening of their second location with new commercial bar stools, table tops and table bases.
Lucky's Bar & Grille was established in 2004 in Madison, WI. Prior to this time the Bar was known as the Oakcrest Tavern. When the Oakcrest Tavern was in bankruptcy, Rod Ripley and some friends saw it as a great opportunity to purchase a Bar close to Camp Randall and the Kohl Center in the heart of the University of Wisconsin's Sport Campus.
The goal of Lucky's Bar & Grille - Waunakee will be creating a premier sports bar with a focus on great craft beer. They have 33 flat screen TVs for viewing sports. There are 24 tap beer lines featuring 21 craft and import beers with more than half brewed in Wisconsin. The biggest room in the building used to be a banquet room and now is the Warrior Room adorned with dozens of jerseys and letter jackets and a large number of photographs. The front part of the Warrior Room features their game room. There are 2 semi-private rooms for events. One is behind the dining room and can be set-up for cocktail parties or sit down parties/meetings with seating up to 100. The Badger Den features Badger jerseys and memorabilia. The Badger Den which seats up to 60 can be used for anything from a business meeting to a birthday party.
The owner of Lucky's Bar & Grille needed high quality commercial seating that would look great and be able to withstand the high traffic that the bar experiences on a daily basis. "The owner needed sturdy, durable chairs that look great, but he didn't want to spend a lot of money," explained David M. He turned to Restaurant Furniture.net because of their reputation for premium quality and strong built furniture at affordable prices. Restaurant Furniture.net supplied Lucky's Bar and Grille with high quality bar stools and tables at competitive prices that fit well within his budget.
When shopping for seating for his new location, the owner decided to go with Vertical Slat Metal Bar Stools with black frames and padded seats upholstered in dark grey. The padded seat is made in the USA and can be upholstered in any material. Customers can also choose a solid wood seat. Wood seats are available in 6 different finishes. The frame is available in black, copper vein, silver vein, gold vein or gold. The bar stools are currently on sale for $49.99. A matching Vertical Slat Metal Chair sells for $38.
For tables, he decided to go with reversible table tops in mahogany finish with a black t-mold edge. The reversible table tops also come in walnut finish with brown t-mold edge. The table tops come in many shapes and sizes and prices start at only $21. "The reversible table tops are very popular with restaurants and pubs because of their versatility and low cost," said David M.
Browse Restaurant Furniture.net's full selection of commercial grade chairs, bar stools, table tops, table bases, booths and patio furniture at http://www.restaurantfurniture.net or talk to a customer service representative at (888) 409-1115.
Lucky's Bar & Grille is located at 1008 Quinn Dr. in Waunakee, WI. They can be contacted at (608) 850-5825.