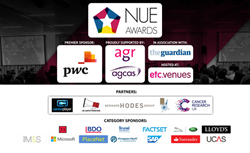 'Increasingly students are entering the job market earlier, taking the leap into a successful graduate career by climbing from insight, to internship and taking as many opportunities as they can.' - Oliver Sidwell, Co-founder of RMP Enterprise
(PRWEB UK) 12 March 2014
The National Undergraduate Employability Awards (formerly known as the National Placement & Internship Awards) took place on Friday 7th March at etc.venues in London. Sponsored by PwC and supported by AGCAS and AGR. This year, the Awards were also in association with The Guardian in order to further showcase the nation's top employers, universities and students in the field of undergraduate employability.
The Awards were attended by over 400 representatives from both the corporate and higher education world. Sahar Hashami, OBE and co- founder of coffee republic joined the day as a guest speaker, and spoke about the importance of entrepreneurial spirit in business.
The show was stolen by Enterprise Rent- A- Car who took home the Award for Best Diversity for the second year running. This year they have surpassed their goals with regards to the percentage of female and Black, Asian and minority ethnic individuals who are recruited through each local community - an increase of 20% since 2010.
ProspectSoft once again won the Top Small to Medium-sized Undergraduate Employer, taking home the prize for the third year running. Having taken on 102 placements and re-employed 51 per cent of those in a 50 person company since they launched, ProspectSoft were the clear winners in this category.
Oliver Sidwell, Co-founder of RMP Enterprise shared his thoughts on the ceremony:
"Work experience schemes are now firmly established as an integral part of a student's path through university and into full-time employment. As competition is becoming fiercer than ever before, both student and employer must respond to the markets need for schemes to be expanded, from an employer perspective, and for our students to take on as many opportunities as they can."
"Increasingly students are entering the job market earlier, taking the leap into a successful graduate career by climbing from insight, to internship and taking as many opportunities as they can."
Linklaters were finalists for two Awards, and RBS's innovative 'Indian Summer' campaign won the Best On Campus Marketing Campaign. With 15 Awards up for grabs the competition was strong in all categories.
Other winners included Aston University who took home the Award for Best University Placement Service and Warwick Finance Societies who took home the title of Best University Society and a £1000 cheque.
To find out more on the Awards, visit the website at http://www.nueawards.co.uk.
The Winners:
University Awards:
Best University Placement Service: Aston University
Best University Careers/ Employability Service: University of the West of England
Most Improved Commitment to Employability: University of Birmingham (College of Social Sciences)
Outstanding Contribution to Work Experience: Graham Kaye-Taylor, Brunel University
Highly Commended: Tim Ward, University of Salford
Student Awards:
Best Placement Student: Elinor Goodhead, IBM
Highly Commended: Connor Adams, NETAPP
Best Intern: James Edmunds, L'Oreal
Best Student Contribution to a Small to Medium-sized Enterprise: Natalie Diver, Baggers Original
Best University Society: Warwick Finance Societies, Warwick University
Employer Awards:
Best New Provider of Work Experience: Teach First
Best Short-term Insight Scheme: Schlumberger
Best Diversity in Work Experience: Enterprise Rent-A-Car
Best On Campus Marketing Campaign: RBS (submitted by ThirtyThree)
Top Small to Medium-sized Undergraduate Employer: ProspectSoft
Highly Commended: Magpie Communications
Top Medium-sized Undergraduate Scheme 2014-2015*: **Top Secret until September 2014**
Top Undergraduate Scheme 2014 - 2015 (Headline Award)*: **Top Secret until September 2014**
-ENDS-
For further information please contact the NUE Awards team on 0203 0567 703 or email francesca(at)rmpenterprise(dot)co(dot)uk.
Notes to editors:
•The final two Awards, Top Medium-sized Undergraduate Scheme and Top Undergraduate Scheme were based on student-written reviews from http://www.ratemyplacement.co.uk who have completed placements and internships. The winners of each Award are embargoed until September 2014 and will be announced in due course.