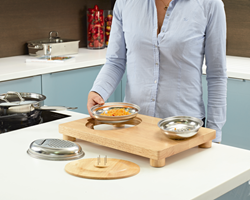 "Suffering from arthritis or living with neurological disorders shouldn't mean that you have to give up your independence or favourite past times."
(PRWEB UK) 18 March 2014
Designed to help those with weak hand function or semi-loss of use of one hand to cook more easily, the Multi-Function Food Preparation Board incorporates grating, peeling, and slicing aids into a single ergonomic design.
"I have MS and always find food preparation tiring," says Veronica, one of PETA UK's testers, "I have to carefully plan what equipment to use before I actually do the preparation." Indeed, many people living with neurological or musculoskeletal disorders struggle with the backwards and forwards motions of grating and peeling, or simply the arduous process of moving around the kitchen to get tools out of cupboards.
"We're extremely devoted to helping people living with disabilities to be more independent at home and to enjoy an improved quality of life," says Genny Crockett, of PETA UK, "which is why our Multi-Function Food Preparation Board has spent more than ten years in development. It's taken us a long time to incorporate a large number of functions with slick design integrity."
The final version of the board is made from sustainable Rubberwood mounted on non-slip feet, and incorporates a removable, stainless steel coarse grater, fine grater, slicer/peeler, and collecting dish, all of which are useable for a person who only has the use of one hand. Perhaps most helpful are the four spikes on the reverse of a wooden "lid", which enable fruit, meat and vegetables to be secured onto the board to make it easier for users with weak grip strength to chop or peel them using only one hand.
"Having a stroke, suffering from arthritis or other musculoskeletal problems, or living with MS and other neurological disorders shouldn't mean that you have to give up your independence or favourite past times," adds Genny. "Ours is a unique, extremely well-made product and we hope that it can bring the joy of cooking back to those who have previously struggled to operate more traditional kitchen tools."
The Multi-Function Food Preparation Board is available exclusively from PETA UK Ltd. and is priced at £64.95 (plus £5 P&P). Please call 01376 573476 for a brochure, or visit http://www.peta-uk.com for more information.
Editor's Notes:
More images available.
Peta (UK) Ltd. has been designing products for children and adults with special needs since 1975. Recent product development has focused on providing highly attractive ergonomic products which not only assist independence but make life easier for everyone. For further information about the company and product range visit http://www.peta-uk.com.