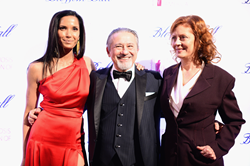 New York, New York (PRWEB) March 12, 2014
WHAT: Padma Lakshmi and Tamer Seckin, MD co-hosted the 6th Annual Blossom Ball for the Endometriosis Foundation of America (EFA) last night at 583 Park in NYC. Endometriosis is a debilitating, often undiagnosed, disease that affects approximately 176 million women and girls worldwide.
The black-tie optional evening, themed "Arabian Nights", included a cocktail reception followed by an elegant seated dinner, music and dancing. Guests danced until midnight at an after party featuring DJ Questlove.
Liselotte Mettler, MD,PhD and Linda Giudice, MD, PhD received the inaugural Harry Reich Award.
WHO: Padma Lakshmi, Tamer Seckin, MD, DJ Questlove, and honorary committee member Susan Sarandon. Other notable guests in attendance: Eunice Omole (The Apprentice Africa), Fátima Ptacek (Dora the Explorer), Joel Schumacher, Kelly Killoren Bensimon, Lee "Q" O'Denat, Luke Wessman, Maura Tierney, Payman Umay, Russell Simmons, and more. IMG Models: Adam Butcher, Ajak Deng, Amanda Norgaard, Ashley Graham, Clara Alonso, Dani Seitz, Danielle Redman, Gertrud Hansen, Jeisa Chiminazzo, Marquita Pring, Matt McGlone and Ujjwala Raut, among others.
WHEN: Friday, March 7, 2014
WHERE: 583 Park Avenue (Park Avenue at 63rd Street) in New York City
MORE: The Endometriosis Foundation of America strives to increase disease recognition, provide advocacy, facilitate expert surgical training, and fund landmark endometriosis research. Engaged in a robust campaign to inform both the medical community and the public, the EFA places particular emphasis on the critical importance of early diagnosis and effective intervention while simultaneously providing education to the next generation of medical professionals and their patients.
For more information on the foundation visit http://www.endofound.org. Find them on Twitter @endofound and on Facebook http://www.facebook.com/endofound.
Media Contacts:
Lauren Peteroy / lauren(dot)peteroy(at)bwr-pr(dot)com / B|W|R Public Relations
Mary Kaye Daniels/ marykaye(dot)daniels(at)bwr-pr(dot)com/ B|W|R Public Relations