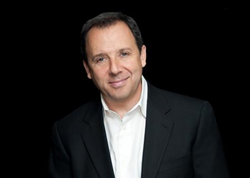 Suskind's engaging presentation leads audiences on a twenty-year journey filled with mystery, fascination, self-discovery and joyful redemption.
Newton, MA (PRWEB) March 11, 2014
In advance of the release of his new book on autism, Life, Animated (publishing April 1st on Kingswell), Pulitzer-Prize winning journalist Ron Suskind penned a heartfelt, revealing essay in this week's New York Times Sunday Magazine which focused on how this neurological disorder has impacted his family. Titled "Reaching My Autistic Son Through Disney," Suskind's article follows the author and his family as they struggle to understand and communicate with his autistic son, Owen, and their eventual breakthrough into Owen's world through the magic of Disney animation. Through his exclusive speaking engagements with American Program Bureau, Suskind is now bringing this remarkable and triumphant story to life in front of audiences around the country.
Suskind's engaging presentation leads audiences on a twenty-year journey filled with mystery, fascination, self-discovery and joyful redemption. Children with autism often seize upon a particular interest that envelops them. In Owen's case, he could only make sense of the world through Disney animated movies. Owen memorized the iconic films and recited them in long strings of barely discernible gibberish. Recognizing this opportunity, the Suskind family dove deep to rescue him, speaking for years in Disney dialogue and impersonating the Disney characters during conversations. Through these unique interactions, Owen began to emerge and develop his own special talents, lifting his veil of isolation and fashioning original stories into startling tales of redemption.
Through this methodology and unexpected success, the Suskind's inadvertently devised a new method for understanding the mysterious world of autism, and may have sketched a new method for reaching and communicating with children impacted by this disorder. A popular speaker among medical researchers, autism advocates and public/social service workers, Suskind's electrifying programs help change the way audiences of all stripes see themselves and the many among us who don't fit in, but possess untapped potential and uncommon grace. By scheduling Mr. Suskind to speak at this juncture, audiences can be among the first to hear the author discuss his inspiring new book and groundbreaking work on autism.
Organizations wishing to book Ron Suskind should contact American Program Bureau at 1-617-614-1600 for information on available dates and program topics. For more information on American Program Bureau, please visit http://www.apbspeakers.com. For a profile on Mr. Suskind, please visit http://www.apbspeakers.com/speaker/ron-suskind.
To read Mr. Suskind's New York Times Sunday Magazine essay, please click on the following link: http://www.nytimes.com/2014/03/09/magazine/reaching-my-autistic-son-through-disney.html?_r=1
About American Program Bureau
American Program Bureau was founded in 1965 with the mission to provide a forum for the world's foremost thought leaders to enlighten and inspire audiences. Today, APB's roster includes an array of expert speakers on the topics of national affairs, ethics, business and overcoming adversity, including Juan Williams, Dan Rather, Geoffrey Canada, Nicholas Kristof and more.
The global leader in the professional speaking industry, APB represents hundreds of speakers who share unique personal stories and serves thousands of clients worldwide. Today, the APB family includes leaders across the disciplines of healthcare, education, government, business, and entertainment, including Mikhail Gorbachev, Archbishop Desmond Tutu, Richard Branson, Michael Douglas, and many others.