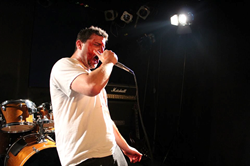 "Last time I was in PA I ended up in Montgomery County Corrections… Hopefully this time it's better." -Brandyn Vile
New York, New York (PRWEB) March 12, 2014
New York heavy metal band, VileBorn (facebook.com/VileBorn) has just announced the first date of their 2014 East Coast United States tour. The tour kicks off June 6th, 2014 at The Final Score in Bensalem Pennsylvania.
The tour is in support of the band's recent release, "Vileated", a self-funded four-song EP that the band cites as their studio debut. The EP garnered critical acclaim in many indie publications and blogs and gets regular play on numerous internet and college radio stations. The group released a four-song demo about two years earlier, called "The 2012 Demo" You can purchase the EP on iTunes, Amazon MP3, Xbox Live, and more.
The band will be playing alongside New Jersey heavy metal outfit, RatFarm, and although not yet confirmed, local Long Island favorite "Ashes in the Sky" may be returning to their birthplace of Bensalem to take part in the concert.
"We can't wait to get moving," remarks Z, the band's drummer. "We just want to spread our music as far as we can." Brandyn, the band's vocalist comments, "Last time I was in PA I ended up in Montgomery County Corrections… Hopefully this time it's better."
If you're in Bensalem Pennsylvania this June, don't miss the first stop on VileBorn's "Vileated" Tour at The Final Score!
For additional information on this release contact VileBorn or visit http://www.facebook.com/vileborn.
About VileBorn:
Fresh out of Long Island, New York, VileBorn is a fast rising hard rock/ heavy metal band. Through aggressive performing, active social media, and of course, a healthy dose of notoriety, the band has been able to build a devoted regional fan base as well a loyal worldwide following.
Contact: VileBorn
Vileborn5(at)gmail(dot)com
http://www.facebook.com/vileborn
http://www.vileborn1.com