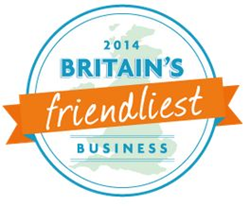 Without any doubt Helter Skelter deserves this award. Its contribution to Broadstairs, the support it gives to other businesses and its customer ethos are simply outstanding.
(PRWEB UK) 14 March 2014
Helter Skelter Children's Play Centre in Broadstairs, Kent has been crowned Britain's Friendliest Business, a national award sponsored by small business funder, Liberis. Run by Fiona Crawford, Helter Skelter wowed judges with the support and affection it gives to and receives from its customers and the town's community. The prize is a £10,000 cash award.
Helter Skelter beat strong competition from nearly 100 UK companies during the four month award process and consistently proved to judges its contribution to the community and devotion to its customers.
Helter Skelter's customers and friends bombarded social media with nearly 1000 likes and posts in support of the company, which were taken into consideration during the final round of judging. 345 comments were posted on why the company should win, including descriptions of Helter Skelter as "a business with a heart", "my saving grace", "a warm and wonderful place" and "a driving force behind an incredible amount of community focused events."
Commenting on the award, Fiona Crawford, owner of Helter Skelter said, "We are so delighted to win and have been very moved by the amazing comments and support for us. We work hard as a team and to have this affirmation makes it even more worthwhile. We passionately believe in our community and some of the money will go towards a Helter Skelter party at the bandstand in the summer as a thank you to everyone.
Said Paul Mildenstein, CEO of Liberis, "Without any doubt Helter Skelter deserves this award. Its contribution to Broadstairs, the support it gives to other businesses and its customer ethos are simply outstanding. In return for all they give, the loyalty and affection shown by its customers and friends is positively tangible."
The two runners-up in the competition are The Pheasant Inn in Allithwaite, Cumbria and the Commercial Group in Cheltenham, Gloucestershire.
Liberis launched Britain's Friendliest Business competition to reward hard working small businesses who think of their customers first based on their own mission to provide business-friendly finance to small businesses – many of whom are struggling in the current tight credit environment. The company has provided over £70 million of funding to help small and medium sized businesses grow.
Click here for pictures to accompany this release via dropbox.
https://www.dropbox.com/sh/c3s3ogpkwhftfi8/6I2Ew9AcFo
Pictures show: Fiona Crawford, owner of Helter Skelter and Paul Mildenstein, CEO of the award sponsor, Liberis. Picture 11 shows Fiona, her team and Paul. Picture 12 shows Fiona, Paul and customers/
Ends
About Helter Skelter:
Helter Skelter is a children's play cafe, activity centre and party venue in the heart of Broadstairs. It runs Baby Sensory, Toddler Time, cooking, arts and crafts activities and is part of the Better Children's Menus Campaign.
Some of the ways Helter Skelter impressed the judges:
Helter Skelter is the Mumsnet Local Ambassador for the area, hosting lots of events so new mums and mums new to the area can meet and share experiences. Their cooking, crafts and baby sensory events are much loved by parents and kids alike. The Helter Skelter team is so well known that the kids recognise them when they run special assemblies in school.
To hear some of the amazing comments about Helter Skelter, click here: http://www.youtube.com/watch?v=E9Te7GjftRw.
Liberis is the UK's largest provider of cash advances for small businesses, a refreshingly simple alternative to traditional finance. For more information, please visit http://www.Liberis.co.uk or call 0845 268 9197.