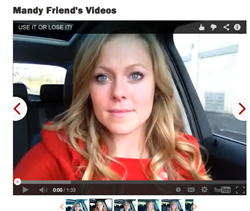 We've created a platform that collects socially driven referrals, something that businesses crave.
Rochester, NY (PRWEB) March 12, 2014
Attention social media users: A simple referral can help fight the human tragedy of global poverty. That's the message being delivered by You Need My Guy, which has launched an initiative to help businesses grow while helping the poor. For each profile upgraded to a premium account on the site for $10 per month using coupon code "S4S", You Need My Guy will donate 1/3 of the revenue. Supporters are encouraged to register for free on the site through a social media profile, recommend people they love doing business with, and let them know about the current campaign.
The funds that You Need My Guy donates will be delivered to Soles4Souls, an international anti-poverty social enterprise, a term used to describe not-for-profit charities that use proven business practices to create social good. Soles4Souls monetizes used shoes and clothing to create sustainable jobs and fund direct relief efforts, including distribution of new shoes and clothing. Founded in 2007, Soles4Souls has distributed more than 25 million shoes around the world, and holds the highest rating from nonprofit watchdog Charity Navigator.
"You Need My Guy supports Soles4Souls because it is an encouraging example of how a charity that operates like a well-run business can cause significant social impact," said Joe Cassara, Founder and CEO. "You Need My Guy is a strong supporter of Soles4Souls' anti-poverty mission, and we're committed to doing our part in providing the organization with funds to help them effectively create positive change."
Soles4Souls will use the funds donated to achieve positive change, both humanitarian and economic. Some of the funds will be used to distribute reusable shoes in microenterprise programs that create jobs in Haiti and other poor areas. The resulting revenue will help fund the free distribution of new shoes and clothing in the U.S. and overseas.
The connection between poverty and shoes is especially well-documented. The World Bank estimates that approximately 400 million children worldwide – more than the entire U.S. population – live in pronounced poverty. Millions of these children will grow up never having had a pair of shoes, resulting in significant ramifications for their health and well-being. Lacking proper footwear, countless children will not be able or permitted to attend school. And tens of millions of these poverty-stricken, barefoot boys and girls will be infected with soil-transmitted parasitic diseases like hookworm, causing lasting suffering and lifelong debilitation.
"We've created a platform that collects socially driven referrals, something that businesses crave," said Joe Cassara. "We're thrilled to partner with Soles4Souls to combine this benefit with the impressive work that they'll do with the funds that we generate from their supporters purchasing premium accounts."
About You Need My Guy
You Need My Guy is a startup committed to bringing word of mouth to the web, collecting socially driven referrals for realtors, electricians, graphic designers, dog walkers and more. With contributors only recommending one person per category, the result is a powerful tool that helps businesses attract new customers, and lets people see who their social media connections love doing business with. Get started today at http://www.youneedmyguy.com.
About Soles4Souls
Soles4Souls, Inc. is a nonprofit social enterprise that advances the fight against global poverty by monetizing used shoes and clothing to create sustainable jobs and fund direct relief efforts around the world. The organization collects new and used shoes and clothes from individuals, schools, faith based institutions, civic organizations and corporate partners, then distributes shoes and clothes both via direct donations to people in need and through qualified micro-enterprise programs designed to create jobs in poor and disadvantaged communities. Based in Nashville, Tennessee, Soles4Souls is committed to the highest standards of operating and governance, and holds a four-star rating with Charity Navigator. Please visit http://www.giveshoes.org for more information.