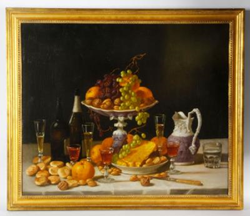 Beverly, MA (PRWEB) March 12, 2014
Kaminski's upcoming Fine Continental Spring auction on March 22nd will feature an impressive array of fine art, decorative art, silver, and jewelry. Highlights include a John F. Francis still life from a New York estate, French vitrines and other fine Continental furnishings and bronzes from an important Los Angeles collection; an important collection of silver, including a Jensen "Blossom" tea set; and a set of Jensen "Scroll" flatware consigned by the descendants of Julia Jergens Joslin of Cincinnati, OH. The auction will also include items (good to say what sort of items from this consignor) from the collection of Surin Namkunee of Florida, an astute collector for over 45 years.
A truly exceptional pair of cufflinks has already garnered significant attention on Kaminski's online bidding platform KaminskiLIVE. Made by Faberge workmaster Julius Alexandrovitvch Rappoport in the 19th century, the pair features two amethyst stones exquisitely carved with the relief image of an owl. Fifteen baguette and brilliant cut diamonds set in 14K gold accent the bird's eyes and define the outer edges of the cufflinks. The pair carry the full Faberge signature in Cyrillic, along with "56" mark indicating 14K gold, and "IP" for workmaster Rappoport. Still in their original Faberge fitted case, the cufflinks are estimated at $2,200 to $2,600.
The Faberge cufflinks are not the only jewelry of exquisite workmanship included in the auction. There is a platinum and diamond ring, signed "Fred Paris," approximately 0.6 oz. / 12 DWT TW, from a Beverly, MA estate as well as a diverse selection of fine jewelry. From diamond, gold, and sapphire pieces, to Native American sterling silver and fine watches, there will be something for every collector.
Also of outstanding quality is a Durgin sterling covered tureen with a full Repoussé design. The elaborate floral embellishment covers the entire surface with floral design and a unique flower accents each corner of the tureen. Marked with the early Durgin symbol (dated to c. 1880) as well as a stamp for "S. E. Caldwell and Co." the tureen is expected to sell for between $2,800 and $3,500.
Items descended from the estate of Julia Jergens Joslin of Cincinnati, Ohio include a Blossom pattern, Georg Jensen sterling tea and coffee set, comprising 5 pieces in total, appraised at $15,000-$25,000 and Jensen Scroll pattern sterling flatware service for 12, with additional serving pieces.
Continental furnishings feature prominently in the auction, gathered from a number of fine Florida estates. Among the top lots are a 19th century Vienna painted urn, standing 31 inches tall and valued at $20,000 to $30,000, a 19th century Italian table pietra dura inlaid with micro-mosaic, estimated at $15,000 to $25,000, and an annular clock by Henri Dasson decorated with figures of cherubs, set to sell for between $10,000 and $15,000.
A stunning 19th century French Sèvres 3 piece clock set, of Paris urn design with ormolu is valued at $15,000-$25,000 as are a pair of Pair of 19th century Sèvres urns with covers, standing 41" high.
Continental Furniture includes three magnificent vitrines, one a 19th century piece with a green marble top, parquetry inlay and ormolu mounts valued at $8,000 to $9,000. The other vitrines, also from a Los Angeles, CA estate, are slightly smaller in size and estimated between $3,000 and $6,000.
The auction will also feature a collection of Russian silver and icons. Of particular interest is an enameled silver bowl with an interesting set of markings. The underside of the bowl reveals mark "88" for .916 silver, as well as the St. George and the Dragon mark for Moscow. The piece can be dated using the "AK 1880" mark that appears alongside imperial double headed eagle. In addition to this information, a maker's mark in Cyrillic appears as well. Transliterated, the mark reads "Pavel Ovchinnikov." The detailed little bowl is estimated at $9,000 to $10,000.
Fine art offerings include a collection of American and European paintings. A still life by John F. Francis is poised to be the top lot of the auction. Many of Francis' paintings were exhibited during his lifetime at the Pennsylvania Academy of the Fine Arts and the Philadelphia Art Union, and he was renowned for the incredible detail and lively texture of his paintings. The example to be offered in this month's auction is entitled "The Wine Taster's Table" and was last available for purchase at auction in 1989. The sumptuous painting depicts a table strewn with grapes, cheese, walnuts, and crackers lying in between the delicate stems of crystal wine glasses. It is currently estimated at $55,000 to $75,000.
Also sure to garner bidding interest is a landscape by William Stanley Haseltine, who also exhibited at the Pennsylvania Academy of Fine Arts. Haseltine spent time studying and painting throughout Europe, finally settling in Rome, where his paintings of Italian landscapes were popular among the American tourists that visited the city. His landscape at Kaminski depicts a quaint rural scene of a bridge accompanied by a small group of age-worn buildings.
Other important American offerings include the famous ship portraitist William Pierce Stubbs' painting of a gaff rigged schooner, "The Emma and Hellen." Conservatively estimated at $2,000 to $4,000, the impressive painting will surely appeal to many local collectors and nautical enthusiasts.
The full catalog of the sale is now available online at kaminskiauctions.com. Online bidding will be available via KaminskiLIVE. Preview hours will be held as follows: Wednesday, March 19th: 10:00 a.m. to 5:00 p.m., Thursday, March 20th: 10:00 a.m. to 5:00 p.m., Friday, March 21st: 10:00 a.m. to 5:00 p.m., and Saturday, the day of sale, March 22nd, beginning at 8:00 a.m.