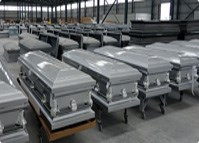 (PRWEB) March 14, 2014
MillionaireCasket.com, a leading casket manufacturer and wholesaler, has different sizes and designs for its wooden caskets. Recently, the company has launched its wooden casket promotion. The price cuts available are as much as 30%.
MillionaireCasket.com offers a wide range of caskets to its global customers: both simple caskets and intricately designed coffins. As an experienced manufacturer of caskets, MillionaireCasket.com deploys advanced machinery in casket production and offers best quality different types.
The CEO of the company says, "We provides an exquisitely crafted line of all kinds of metal caskets, wood caskets, European style coffins and more. OEM and ODM designs are welcomed at this company. The items can be ordered in any desired measurement and weight. We promise that special attention is given to the design and engineering of each casket."
In addition to wooden caskets, the company also produces metal ones which include high quality stainless steel caskets and bronze coffins. Its manufacturing facility is fully equipped with latest technology machinery and the expert team of professional craftsmen ensures every product manufactured delivers to customer expectations.
The company runs its business worldwide and promises to produce highest quality caskets only. The company aims to provide high quality products at rates much lower than any local manufacturer. The company offers great flexibility in terms of material species, finish and color, interior fabric and styles.
MillionaireCasket.com is a funeral products manufacturer and wholesale distributor. It is based in China Mainland and operates business worldwide. Visit http://www.millionairecasket.com/ for more details.