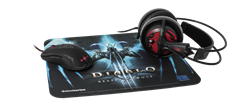 Chicago, Illinois (PRWEB) March 13, 2014
In conjunction with Blizzard Entertainment's release of Diablo III: Reaper of Souls, SteelSeries has announced a new Diablo themed QcK Mousepad featuring original artwork of the Angel of Death, the Nephalem's main adversary in the epic new expansion pack. The new SteelSeries QcK Reaper of Souls Edition is available now via the SteelSeries Web Shop for $14.99/ €14.99.
Alongside the new QcK, the award-winning Diablo III Mouse makes its return. Armed with 7 ergonomically placed buttons with a 10 million-click lifespan and demon-red illumination, the Diablo II Mouse brings players their most precise weapon for gameplay.
The final piece of hardware, recognized for its comfort and ominous design is the Diablo II Headset delivering an audio experience that was tuned specifically for your looming war. It features powerful 50mm drivers, the SteelSeries signature retractable microphone, and four customizable illumination options that glow as brightly as the Burning Hells.
The exclusive Diablo III peripherals are now equipped with the powerful software support of SteelSeries Engine 3. Owners of these peripherals, both old and new, have complete access to customizing all of their mouse and headset settings, all while battling in the war between Heaven and Hell. You can find these exclusive weapons for victory here: http://steelseries.com/diablo.