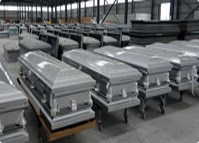 (PRWEB) March 15, 2014
Recently, MillionaireCasket.com, a well-known casket company and casket wholesale distributor, has added new models to its much appreciated line of wood caskets, and announced a site-wide casket promotion. Now, all its caskets come with great discounts for the casket distributors worldwide.
MillionaireCasket.com has been in the industry for over 10 years, offering many different styles of metal caskets, wooden coffins and other useful funeral products. Its experience has been translated into high quality caskets. The company manufactures and offers finely-crafted high-quality caskets only, and all its products are made with sustainable materials. These superior quality coffins are distributed worldwide via a network of authorized distributors of the company.
The CEO of the company says, "We are very excited to release new caskets and launch the promotion to the casket distributors worldwide. MillionaireCasket has been a leader in finely crafted caskets for over 10 years. Our caskets have greatly stimulated the company's business growth in the past few months. We can make a casket unique like the individual, and OEM orders are welcomed here."
The caskets are available in varying sizes which range from infant coffins to extra large caskets. In metal caskets, bronze and steel coffins are featured and in wooden ones the oak caskets have been added just recently.
MillionaireCasket.com is based in China Mainland and specializes in manufacturing and distributing metal and wood caskets along with other funeral products. Its high quality products are reliable and inexpensive. Visit http://www.millionairecasket.com/ for more details.