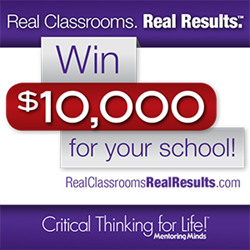 Helping teachers help students build critical thinking skills is at the core of everything we do at Mentoring Minds.
Chicago, IL (PRWEB) March 12, 2014
To celebrate creative and critical thinking in classrooms across the country, Mentoring Minds announced today the launch of the 2014 "Real Classrooms. Real Results" contest. The competition, to be held on Facebook, will offer more than $15,000 in prizes and is open to K-12 principals, administrators and educators in the United States.
"Helping teachers help students build critical thinking skills is at the core of everything we do at Mentoring Minds," said CEO Robert Bush. "We created 'Real Classrooms. Real Results™' to celebrate and learn more about the ways that schools and districts are integrating this 21st-century skill into teaching and learning. In addition, the social media aspect allows them to share their successes with their school communities as they strive to earn the most votes for their submissions."
Educators should visit RealClassroomsRealResults.com to get contest information. All entrants must like the Mentoring Minds Facebook page and submit an essay (maximum 300 words) describing how critical thinking is being integrated into teaching and learning at their school or district. Each essay must be accompanied by a visual element such as a photo or collage that reflects the theme of critical thinking. Entries that receive the highest number of Facebook votes will move on to the final round. Finalists will then be asked to submit a short video that best captures critical thinking in the classroom, on campus or around the district. The entry whose video receives the most Facebook votes is the grand prize winner and will receive a $10,000 prize to be used at their discretion.
The contest opens on March 17 and first-round entries must be submitted via Facebook.com/mentoringminds between March 17 and April 17, 2014. Video submissions from the notified finalists will be accepted from April 21 until May 9, 2014. Voting is open to anyone on Facebook.
Mentoring Minds will announce the grand prize winner on May 12, 2014. In addition to the $10,000 grand prize, the entrant with the second highest number of votes will win $3,000 and the entrant with the third highest number of votes will win $1,500. Each of the remaining finalists will receive a $250 gift card.
For more information and to enter, visit RealClassroomsRealResults.com.
About Mentoring Minds
Founded more than a decade ago, Mentoring Minds, the Critical Thinking for Life Company, develops affordable, effective learning tools that give students the skills to succeed, not just in the classroom, but in life. Experienced educators create K-12 print and online resources that integrate best practices for instruction, assessment, and learning for students across the nation. For more information about Mentoring Minds and its educational resources, call 800-585-5258 or visit mentoringminds.com.