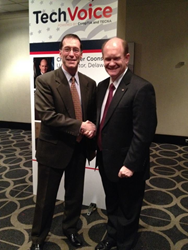 Tech sector innovation is a key force behind a strong 21st century economy and, Congress should prioritize issues that affect small and mid-size tech businesses like SoundConnect
Boston, MA (PRWEB) March 12, 2014
In mid-February, Greg Plum from SoundConnect joined TechVoice to advocate for IT sector priorities on Capitol Hill during the organization's annual fly-in to Washington, D.C. TechVoice, a partnership of CompTIA and the Technology Councils of North America (TECNA), works to provide a voice to tech companies on Capitol Hill.
As a TechVoice participant, Plum met with the offices of Delaware Senators Tom Carper and Chris Coons, as well as the office of Delaware House Member John Carney, to focus their attention on policies that support patent reform, develop skills for the 21st century workforce, champion the SMB tech entrepreneur, lead in secure Internet-based platform technologies, and support new and emerging technology platforms.
"Tech sector innovation is a key force behind a strong 21st century economy and, Congress should prioritize issues that affect small and mid-size tech businesses like SoundConnect," said Plum. "These issues include patent reform to counter abusive patent litigation tactics by so-called 'patent trolls,' ensuring tax reform is fair to tech SMBs; and immigration reform that includes making it easier to recruit and retain the 'best and the brightest' of high-tech workers in an effort to close the skills gap and remain globally competitive."
"As the tech sector grapples with the implementation of 2014 Congressional priorities, TechVoice will continue to facilitate open discourse between legislators and small and mid-sized tech businesses," said Todd Thibodeaux, president and CEO of CompTIA. "Through a balanced, multi-policy approach that incorporates the needs of hiring businesses, Congress can boost economic growth nationwide."
The Fly-In ran from February 11-12, 2014 in Washington, DC. For more information on TechVoice's advocacy efforts, visit http://www.TechVoice.org.
SoundConnect
SoundConnect specializes in unified business communications. Their offerings include a comprehensive portfolio of Unified Communication and Collaboration services: Hosted Lync, SharePoint, Exchange, Adobe Connect, WebEx, Web conferencing, Webcasting, Video conferencing and Audio conferencing. SoundConnect's comprehensive communication services are customized and implemented to optimize the requirements of their customers. SoundConnect's streamlined communications services improve productivity, expand communications, reduce operational expenses and provide tools to empower sales & marketing programs.
About TechVoice
TechVoice is a partnership of the Computing Technology Industry Association (CompTIA), the Technology Councils of North America (TECNA), and participating regional technology associations. Collectively, TechVoice represents thousands of technology companies across the country employing millions of workers. TechVoice is dedicated to empowering and mobilizing the grassroots tech community to impact legislative and regulatory issues important to growth, innovation and job creation. For more information, visit http://www.techvoice.org and http://twitter.com/tech_voice.