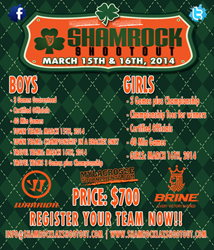 Long Island, NY (PRWEB) March 12, 2014
My Lacrosse Tournaments is presenting the 2014 Shamrock Lacrosse Shootout. This year will be the seventh year that the tournament has being held. The tournament has quickly become the largest pre-season tournament in the country.
With multiple levels of competition, the top vendors, certified officials and fantastic venues, this tournament has something for players and spectators alike. All teams registered in the tournament are guaranteed three games.
Spring is in the air and Long Island lacrosse players are excited to get out and play after being cooped up with the endless winter snowstorms. Join the fans in the stands and watch as over two hundred teams try their luck during this St. Patrick's Day, lacrosse season kick off tournament.
Wreckless Lacrosse Apparel Group will be sponsoring the Shamrock Shootout on Saturday and Sunday, March 15th - 16th. Rob Pannell, a professional lacrosse player for the New York Lizards is an endorser of the Wreckless Lacrosse brand, and also happens to be the all time leading scorer in NCAA lacrosse history. Rob will be attending the tournament, signing autographs for fans from 11-2 PM on Saturday.
Wreckless Lacrosse will not be coming empty handed, the crew will have the well known Wreckless RV, and tents with a Wreckless Village set up, a DJ, free giveaways, contests, and of course a lot of the signature gear and products for sale.
Wreckless is also the creators of the championship medals, championship t-shirts, and the tournament shirts that "My Lacrosse Tournaments" will be selling. With the spirit of St. Patrick's Day in mind, Wreckless brings a little luck for everyone in attendance this weekend at the Shamrock Shootout, and wishes the best of luck to all the teams participating.
Visit http://www.shamrocklaxshootout.com for more information about the tournament for both boys and girls. To learn more about Wreckless Lacrosse and see some of the gear check them out online at [http://www.wrecklesslacrosse.com or on the Facebook Page.