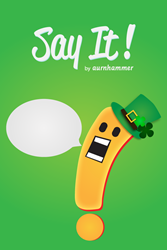 We have designed funny Say It! characters to add more colors and flavors to this cheerful day.
New York, NY (PRWEB) March 13, 2014
"Say It! Animated Greetings" is an animated greeting card application that allows iOS users to pick a character, record a message and send the animated greeting off to friends and family via email and social media. The application's developing team, Aurnhammer, has recently announced an update of the greeting card's character selection.
As the greeting app gains popularity over the past holiday season, the Aurnhammer team plans to incorporate more special elements into the character selection. From Clover Chloe to Irish Stout, the new characters speak for Say It!'s personality and coolness.
"St. Pactrick's Day has evolved from a religious holiday to a well beloved cultural celebration," said Bill Aurnhammer, CEO of Aurnhammer. "We have designed funny Say It! characters to add more colors and flavors to this cheerful day."
Download "Say It! Animated Greetings" at its official website:
https://itunes.apple.com/us/app/say-it!-animated-greetings/id494004564?mt=8
Device Requirements:

iPhone, iPad, or iPod touch
Requires iOS 7.0 or later
Universal app optimized for display on all iOS devices
Pricing and Availability:
Say It! Animated Greetings is free and available worldwide exclusively through the App Store in the Entertainment category.
About Aurnhammer
Aurnhammer, headquartered in New York City, is a creative media, custom design and development company specializing in branded smart applications for mobile. Aurnhammer has provided creative solutions for clients such as: Sony Music Entertainment, Showtime Networks, Kohler, Foxwoods Resort Casino, Lumber Liquidators, Bass Pro Shops, Mass Mutual, Bowers & Wilkins, Think Smart Games, Extra Innings, Stanley Hand Tools, Russian Standard Vodka, Century 21 Real Estate, and Planet Fitness. Besides technological skill in coding and programming, the Aurnhammer team brings collective experience in the fields of film and television production, digital arts, and graphic design. At the company's core is a solid team of strategists, designers and programmers who work in a variety technologies and platforms to flawlessly bring these ideas to life. Visit http://www.aurnhammer.com and "Follow" @Aurnhammer on Twitter.