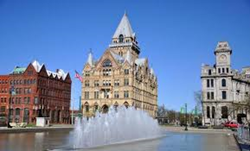 "With it, we can help more entrepreneurs, provide their companies with a longer runway from which to take off, and foster greater success across the Upstate ecosystem."
Syracuse, NY (PRWEB) March 13, 2014
In 2011, serial entrepreneurs and angel investors Chuck Stormon, Nasir Ali and Martin Babinec founded StartFast Venture Accelerator. Their mission: to attract, invest in, mentor and accelerate the growth of tech startups.
A short three years later, the fund has grown with additional investors, experienced its first acquisition, and financed a portfolio company that is poised for explosive growth. "It's been a good year," says StartFast Managing Director Chuck Stormon. "And this is only the beginning. We feel the momentum building."
First-time entrepreneurs Tristan Toye and Mo El Mahallaway from Ontario, Canada and their startup, Calester, took part in StartFast's accelerator program during summer 2013. After the program, Toronto-based Dossiya acquired Calester, marking the first acquisition from StartFast's portfolio. "The acquisition of Calester by Dossiya is a significant milestone for the program," stated StartFast Managing Director Nasir Ali. "It shows that intellectual property and talent are highly valued, which is good for our investors and for the entrepreneurs."
Formed by Syracuse natives Michael Quigley and Devin Daly, SwipeToSpin.com enables any product to be viewed in 3D on mobile devices and the web. "After we completed the StartFast accelerator program, Chuck and Nasir led our investment round," according to CEO Daly. "Once we had Startfast committed as leads, investors lined up with confidence." Investors from both Upstate and New York City completed SwipeToSpin's financing in March. Using this capital, the company has added sales and technical capacity, closed a key distribution partnership to over 1,500 publishers and is poised for significant growth.
StartFast is 100% privately funded. Initial capital came from its founders, members of the Seed Capital Fund of CNY, Cayuga Ventures, Upstate Venture Connect and angel investors. The program welcomed four new investment groups as limited partners during 2013.
"The expansion of StartFast with additional investor support is a boon for the Upstate economy," said Babinec, founder of Upstate Venture Connect. "With it, we can help more entrepreneurs, provide their companies with a longer runway from which to take off, and foster greater success across the Upstate ecosystem."
StartFast is currently accepting applications for its 2014 program, which takes place this summer in downtown Syracuse. Software, mobile and web companies from anywhere in the US or around the world may apply at http://startfast.net/.
About StartFast
StartFast is the #1 startup accelerator program in Upstate New York. Typically, fewer than 1% of the companies screened are selected to participate in the program. StartFast companies aim to make a year's worth of progress in just 3 months. The program is a 12-week bootcamp for startups, providing capital, virtual co-founders and staff, space, and introductions to world-renowned mentors and angel investors as well as big-name venture funds.
StartFast is modeled on TechStars, a seed accelerator launched in Boulder, CO in 2007, which has since grown to run 15 programs in cities around the US and London. In 2011, TechStars formed the TechStars Network (now called the Global Accelerator Network), to link the top accelerator programs in the world. StartFast is a charter member of GAN and the only GAN member accelerator in Upstate New York.