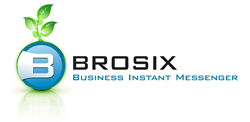 There is nothing more important to us than providing a straight forward, secure instant messaging environment.
(PRWEB) March 13, 2014
More people than ever before are using smartphones as a means of communicating with others. In addition to traditional methods, such as voice and text messages, some are beginning to consider the benefits of instant messaging.
Rather than rely solely on instant messaging from one computer to the next, the ability to use these programs on smartphones is growing in popularity.
Brosix has published version 3.4 updates for its iPhone and Android smartphone apps. Doing so ensures that users of both mobile operating systems have access to the most recent and powerful app.
Both versions share the same set of improvements:
1. Sending pictures in the background for increased user convenience.
2. Saving a local chat history so users have the ability to review full conversations.
Brosix CEO Stefan Chekanov is excited about the updates, saying the following:
"The use of smartphones has come a long way in the past couple of years, and this is why we continue to update our apps. We know our users are both iOS and Android fans, which is why we strive to provide the same experience for both."
Even though the new features add more functionality and convenience to the apps, the simplicity and security remains the same.
"There is nothing more important to us than providing a straight forward, secure instant messaging environment," added Chekanov. "We have been able to keep within these guidelines with our most recent version 3.4 updates."
To learn more about Brosix, including what both apps have to offer, please visit http://www.brosix.com.
About Brosix
Brosix offers all-in-one instant messaging incorporating audio and video calls, sending screenshots, co-browsing, whiteboard and desktop sharing technology to provide an easy-to-use online meeting solution for high-quality online business collaboration. Used by more than 100,000 registered users, Brosix customers consist primarily of small- to medium-sized businesses. At present, more than 10,000 corporate customers in over 70 countries worldwide are using the Brosix private instant messaging networks and benefiting from significantly reduced travel time and travel expenses. Launched in 2006, Brosix is continuing to provide great enterprise instant messaging software to thousands of users around the world.