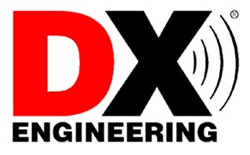 Tallmadge, OH (PRWEB) March 12, 2014
Building an antenna structure can be a challenging process. The new Mast Load Estimator at DXEngineering.com interprets antenna data to help Amateur Radio enthusiasts determine if a antenna project is feasible.
This calculator will eliminate a lot of guesswork, ultimately saving time and money. Using the Mast Load Estimator is easy. Choose either DX Engineering's 2 or 3 inch O.D. mast, then enter the project's anticipated overall height. Next, add up to five antennas, inputting their height from the tower top and wind load area. The Mast Load Estimator will calculate a pass/fail result at 60, 80, 100 and 120 MPH wind speeds for the theoretical mast.
Since manufacturer quality can vary, the Mast Load Estimator is intended to work only with DX Engineering's 22 foot, 2 and 3 inch O.D. Masts.
NOTE: This calculator only provides rough estimates of load tolerances with regard to DX Engineering's Antenna Masts as outlined above.The actual configuration, local environmental factors, and local laws and regulations must be reviewed by a professional engineer before installation. DX Engineering makes no warranty as to the results of this calculator, and DX Engineering disclaims any implied warranty of merchantability or fitness for a particular purpose.
SEE THE MAST LOAD ESTIMATOR AT DX ENGINEERING
DX Engineering
http://www.DXEngineering.com
1-800-777-0703