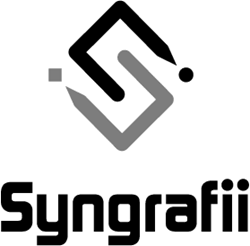 Syngrafii's solution is the only product on the market that gives you the option to choose to work with hardcopy and digital document formats interchangeably and on the fly.
Toronto –
Syngrafii Inc. – March 12th, 2014 (PRWEB) March 12, 2014 -- Digital Paper™ Definition: Digital Paper™ is any standard document format such as PDF that can be annotated and signed on any digital device and stored indefinitely. Digital Paper stores all user biometric input and audit meta-data associated with the document. Should a printed hard copy of the document be required with biometrically defensible wet ink signatures, Syngrafii's Digital Paper provides the ability to output the digital document and all writing data in physical form.
As Syngrafii allows customers to work with the documents that are approved and currently in use, process change is nominal; staff re-training is unnecessary and business interruption and the risk associated with process change is mitigated. Syngrafii enables customers to do what they have always done on paper in the digital world.
This launch represents Syngrafii's vision of complete transaction execution through all digital channels. Together with Syngrafii's LongPen™ solution, Digital Paper™ will give customers the ability to remotely execute any contract or agreement via a mobile device with the option of a "wet ink" signature.
"Organizations have always relied on paper processes that are familiar; compliant; defensible in a court of law with extensive case law that can be relied upon. As industry moves towards eSignature solution adoption there are a broad range of transactions that simply will not be completed without a physical signature on a piece of paper. Syngrafii understands this "break" in the digital workflow and has developed simple, intuitive software solutions that allow customers and consumers to complete transactions the way they always have, but with the ease and efficiency of digital channels." Matthew Gibson, President and Co-Founder
Syngrafii has developed partnerships with industry-leading technology firms to deliver optional workflows for the seamless transition to a fully digitized document workflow management system. Customers include: Financial Services companies, Law firms and Government entities.
Syngrafii's Digital Paper is now available and ready to install by Q3 of this year.
Please visit Syngrafii at Cisco Systems, Booth 7 at Retail Banking 2014 from March 12th to 14th for a demonstration.
For further information, please contact: Matthew Gibson, President mgibson(at)syngrafii(dot)com or for sales inquiries: sales(at)syngrafii(dot)com.
About Syngrafii Inc.:
Syngrafii is the foundational platform of signature solutions delivering a connected world where two or more parties complete transactions in real time from anywhere worldwide. Syngrafii is the only solution worldwide that executes your original signature intent onto paper with the platform for a complete signing solution delivering a seamless multi-channel banking experience. Syngrafii transitions remote customer engagement sessions into revenue generating transactions sessions while delivering critical metrics for business optimization. Syngrafii Inc. (http://www.syngrafii.com) is based in Toronto, Canada.