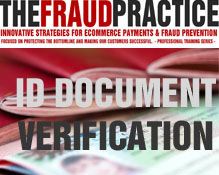 Identity Document Verification works globally and can allow conversion of orders where a customer's identity cannot be verified through traditional channels.
Sarasota, Florida (PRWEB) April 09, 2014
Identity document verification is not a new technique. In the past, it has been done through consumers faxing or scanning copies of passports and IDs, which organizations would review manually. Modern ID document verification services are quite different. Consumers can capture and submit images of their identity documents via web or mobile devices, and the services perform many automated forgery checks that businesses typically don't have the expertise to do on their own.
Organizations that are using or considering identity document verification need to understand how it is best applied, where it fits into a risk strategy, as well as the capabilities and features of ID document verification services offered by third party vendors. The Fraud Practice has released an Identity Document Verification Training Course with accompanying data sheet to provide this information. The online training course discusses the use of identity document verification in a risk program and the current vendor market providing these services.
The Fraud Practice has combined industry research with practical experience to produce this online technique course and data sheet dedicated to ID document verification. The online course is designed to provide a business with an overview that will answer the questions "What is identity document verification?"; "What can you do with ID document verification?"; "Who are the vendors that offer identity document verification, and how do they differ?"; "How does ID document verification fit into a risk program?"; "How easy, and how long does it take to implement?"
The online course and datasheet is available through The Fraud Practices company website http://www.fraudpractice.com and their training website http://www.cnptraining.com.
The Fraud Practice is a privately held US LLC based in Sarasota, Florida. The Fraud Practice provides consulting services on eCommerce payments, fraud prevention, and credit granting as well as prepared research and training for payment and fraud professionals. Businesses throughout the world rely on The Fraud Practice to help them build and manage their payment, fraud, and risk prevention strategies.
The Fraud Practice LLC
5255 Office Park Blvd., Suite 107
Bradenton, FL 34203-3443
Direct: 941-244-5361
http://www.fraudpractice.com
http://www.cnptraining.com