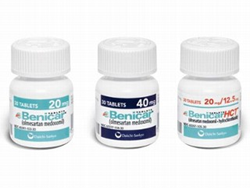 The damaging effects of rare sprue-like enteropathy can be permanent, even if a patient experiences relief of gastrointestinal symptoms
Pensacola, FL (PRWEB) March 18, 2014
A Texas man has filed a Benicar lawsuit with the Levin, Papantonio law firm after he allegedly developed a rare gastrointestinal condition known as sprue-like enteropathy while taking the blood pressure medication Benicar (Olmesartan medoxomil). According to the complaint filed by Levin, Papantonio, the plaintiff alleged that he suffered severe gastrointestinal symptoms associated with the rare gastrointestinal condition, including chronic diarrhea, weight loss, malnutrition, and dehydration. Additionally, Benicar's manufacturer, Daiichi Sankyo, is facing scrutiny after a Mayo Clinic study* linked the popular drug to causing rare sprue-like enteropathy in users.
In response to the growing Benicar litigation, Levin, Papantonio has launched a new website for potential Benicar lawsuit claimants who may have suffered from sprue-like enteropathy while taking Benicar. The Benicar Lawsuit website by Levin, Papantonio provides extensive information on the alleged link between Benicar use and rare sprue-like enteropathy, as well as articles and updates in the Benicar litigation. Additionally, potential Benicar claimants can also fill out a free case evaluation form available on the new website.
Rare sprue-like enteropathy can cause severe gastrointestinal issues, including chronic diarrhea, rapid weight loss, abdominal pain, fatigue, bloating, nausea, vomiting, and anemia. Sprue-like enteropathy can be easily overlooked by healthcare professionals as its symptoms are often misdiagnosed for symptoms associated with Celiac disease, an adverse health event where the body cannot break down gluten.
Mayo Clinic gastroenterologist, Dr. Joseph Murray, was the first claim a link between Benicar use and the development of rare sprue-like enteropathy. According to the Mayo Clinic*, Dr. Murray initially noticed the link after he observed two patients taking Benicar experience relief from symptoms thought to be associated with Celiac disease. Upon discontinuing the use of Benicar, both patients experienced relief from the gastrointestinal issues.
Over the next three years, Dr. Murray identified and observed 22 people who experienced symptoms of Celiac disease while taking Benicar. Of the 22 patients, 14 had symptoms so severe that hospitalization was required. Additionally, all 22 patients did not respond to a gluten-free diet, a common form of treatment for Celiac disease, and did not have detectable tissue transglutaminase in the blood, which is used to positively diagnose Celiac disease. Upon the discontinuation of Benicar, all 22 patients in the group gained weight and felt relief from previous gastrointestinal symptoms experienced while on Benicar.
"The damaging effects of rare sprue-like enteropathy can be permanent, even if a patient experiences relief of gastrointestinal symptoms," commented Daniel Nigh, a Benicar lawyer with the Levin, Papantonio law firm.
In 2013, Benicar's label was updated** by the U.S. Food and Drug Administration (FDA) to reflect Murray's findings, adding a warning of the drug potentially causing the development of sprue-like enteropathy and symptoms that are similar to those present in Celiac disease.
The Levin, Papantonio law firm is currently investigating the link between Benicar use and the rare condition sprue-like enteropathy.
If you or a loved one have suffered symptoms of sprue-like enteropathy while taking Benicar, you may have a case to file a Benicar lawsuit. Please do not hesitate to contact the Levin, Papantonio law firm for a free evaluation of your case. Daniel Nigh, an experienced Benicar lawyer***, can review your case and determine if you can file a Benicar lawsuit.
SOURCES:
*Mayo Clinic study on Benicar and its association with sprue-like enteropathy, published in the Mayo Clinic Proceedings (2013) Available at: mayoclinicproceedings.org/article/S0025-6196(12)00558-7/fulltext
**FDA Safety Communication Concerning Label Change on Benicar, 2013. Available at: fda.gov/drugs/drugsafety/ucm359477.htm
***Benicar Lawsuit Video by Daniel Nigh
ABOUT LEVIN, PAPANTONIO LAW FIRM
Since its founding in 1955, the law firm of Levin, Papantonio, Thomas, Mitchell, Rafferty & Proctor, P.A. has handled many cases in mass tort litigation. Total settlements and verdicts won by the firm have exceeded $1 billion, and in 2002, Levin, Papantonio was recognized by the National Law Journal as the fourth most successful law firm in the country.
The firm presently employs 39 attorneys who specialize in various litigations, including products liability, personal injury, car accidents, and defective drugs and devices.
CONTACT
Levin, Papantonio, Thomas, Mitchell, Rafferty & Proctor, P.A.
316 South Baylen Street, Suite 600
Pensacola, FL 32502-5996
Toll Free: (888) 435-7001
Local: (850) 435-7000
Fax: (850) 497-7057