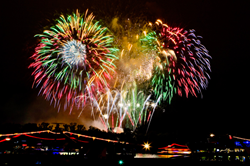 Nanuet, NY (PRWEB) March 25, 2014
Imagine sailing the Rhine River taking in the spectacular views of castles, palaces and villages along with a mesmerizing light show guaranteed to make for an unforgettable adventure!
For more than 50 years, hundreds of thousands of people turn up to experience the Rhine in Flames or, as the locals call it, "Rhein in Flammen." This spectacular light show of fireworks takes place in five locations along the beautiful and romantic Rhine river in Germany. In addition to the beautiful fireworks displays, travelers can experience music, dancing and wine and folk festivals to enhance the fun.
Originally started back in the 1930s, this tradition went on hiatus when World War II began in 1939. Years later, in 1948, residents decided to organize and pay for the event themselves. It was held irregularly from 1948 until 1965 - when Queen Elizabeth II of England attended. It would be nearly twenty years later, that this impressive event would take hold again. In 1986, the owners of passenger ships on the river resurrected the tradition and it has become one of the most anticipated and attended events in Europe. River ships of all sizes participate in the parade of ships, which cruises the river under an umbrella of fireworks
The Rhine in Flames celebration begins in Bonn on 03 May 2014. On 05 July 2014, the cities of Rudesheim - Bingen will light up and finally on 09 August, the largest Rhine in Flames event takes place in Koblenz.
Euro River Cruises' Rhine in Flames river cruise is a once in a lifetime experience as you take part in the parade of ships. A vibrant cultural event, Rhine in Flames is guaranteed to live in your heart forever. Visit Euro River Cruises to book your adventure now!
Euro River Cruises is a pioneer in the river cruise business and has been representing European river cruise companies in the US, Canada, Australia, New Zealand, South Africa and Ireland for 15 years.
They offer a wide range of river cruise programs, from three to 29 days, on all of Europe's major rivers including the Rhine, Danube, Rhone and Seine. They also offer cruises on the Guadalquivir in Spain, the Douro in Portugal, the Po River in Italy, the Tisza in Hungary and the Garonne in France.