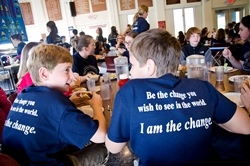 Morristown, NJ (PRWEB) March 13, 2014
The Peck School's relationship with Maggie Doyne, founder of BlinkNow and the Kopila Valley Children's Home and School in Surkhet, Nepal, takes another positive step as two teachers bring Peck's InDeCoRe Program as a model to help KVS scaffold its own unique character education program.
What Ms. Doyne created as a home for orphaned children in 2008 grew into the Kopila Valley Children's Home and Primary School (KVS) for Nepalese students in grades nursery through eight.
KVS aims to sustain and improve the quality of life and access to education for now over 300 enrolled students—and like Peck, Ms. Doyne recognizes the importance of building positive character development along with with teaching core academics in order to help her students meet the challenges of their environments.
Throughout KVS' growth, the Peck community has supported the school with friendship and fundraising—which has in turn led to an inspirational, educational, and truly reciprocal relationship for students and faculty.
Building global awareness, partnership, and collaboration, Peck students have Skyped with the KVS community, spent time with Ms. Doyne, and, in the spring of 2012, learned from two KVS teachers who spent three weeks at Peck training in best practices of western teaching methods. In turn, Peck faculty have also travelled to KVS to assist with curriculum development, teacher training, classroom lessons, and enhancing the KVS technology program.
Additionally, Two KVS students spent time immersed in the Peck community; most recently, the first KVS exchange student, Nisha Gharti, studied in the eighth grade curriculum for the past three months and was hosted by a Peck family. The student body embraced their new peer enthusiastically and fondly; leading not only to a greater understanding of the different parts of the world and its people, but also to lasting friendships. When Nisha's final days at Peck came the week of March 3, the students honored and celebrated with her at an assembly, with a Lower School mini-dance party, an eighth grade party, and with a presentation from the Student Council of a check in the amount of $300—which will fund the tuition of another KVS student for an entire year.
On March 7, two Peck teachers left with Ms. Gharti as she returned home to Nepal; Lower School Head Nina Sharma and School Psychologist Dr. Suzanne Struebing. The pair will spend two weeks assisting KVS administrators and teachers structure their own character education program.
InDeCoRe, Peck's nationally recognized character education program, serves as the base model for the materials and lessons brought to KVS. For several months faculty at Peck have been collaborating to outline a set of core values guiding the initiative, suggesting ways to implement the program, and collecting tried-and-proven materials, lesson plans, and resources to send to KVS.
Mrs. Sharma and Dr. Stuebing will be maintaining a blog documenting their experiences as they travel to Surkhet and work with KVS students, faculty, and administrators. Follow their travels at peckkvs.blogspot.com.
Upon their return home, Ms. Sharma and Dr. Struebing will share their experiences with the Peck community during assemblies and at Peck's flourishing World Cultures Night on April 25—an annual event celebrating the various ethnic and cultural backgrounds represented by members of the Peck community.

Since 1893, The Peck School has prepared graduates to succeed in secondary school and to lead healthy, productive, and principled lives. Through a commitment to character formation and a rigorous academic program, Peck's independent, coed, K-8 curriculum strives to teach students life skills, consideration of others, and disciplined learning. To learn more about Peck and see photos of our school and community, visit http://www.peckschool.org.