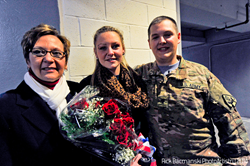 I didn't know how she was going to react. My heart was beating a thousand beats a minute.
Elmira, NY (PRWEB) March 27, 2014
Army Specialist Albert "Joey" Daghita and his wife Brittany were reunited in front of thousands in attendance at a March 3rd ECHL hockey game in Elmira, NY. Joey, having just returned from his third tour of duty in Kuwait, surprised Brittany on the ice at First Arena during an Elmira Jackals game as part of the Ziff Law Firm's "Veteran of the Game" program. Joey and Brittany were married in May 2013 and had been apart for 7 months before the surprise.
Annette Viselli Thorne, a paralegal for Ziff Law, coordinated the top-secret reunion. "Brittany was told that she would be recognized during Saturday's Jackals game against the South Carolina Stingrays," said Thorne. "She was brought out on the ice between the first and second periods, and as the public address announcer talked about her life as a military wife, Joey snuck up behind her in his camouflage uniform and surprised her."
The crowd of about 3,000 fans, including almost 25 of the couple's relatives and friends, reacted with huge applause and tears.
Watch the video here on the Ziff Law YouTube Channel.
Joey, 22, said in a later interview that he was very nervous. "I didn't know how she was going to react," he said. "My heart was beating a thousand beats a minute."
"Mine was, too," Brittany, 23, added.
The Ziff Law Firm has sponsored a "Veteran of the Game" as part of an in-game promotion at each Jackals game for several years, but this reunion was a special event. "To be part of such a wonderful homecoming was one of the most heartwarming events I have ever participated in," said Thorne. "Our law firm is a business, but we still care for our community after 5 p.m. every day - and I am so thankful to be part of what we do!"
To honor an active-duty military member home on leave, or to salute a veteran during an Elmira Jackals hockey game, contact Annette Viselli Thorne at athorne(at)zifflaw(dot)com or call 607-733-8866. For more information, visit the New York Injury Law Blog by Ziff Law.