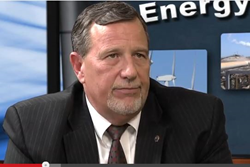 'The money's there,' Shankle said. 'All you need is to step up and ask for it.'
San Bernardino, CA (PRWEB) March 13, 2014
The NAAWP is a green energy enterprise funded without taxpayer money, much in the same way as the successful Adopt-A-Highway program. Individual citizens, organizations and businesses that believe in promoting an environmentally cleaner, sustainable future participate by sponsoring energy efficient improvements to schools, airports and other municipal facilities. They are recognized, in part, for their effort by signs placed in proximity of their contribution, but for some supporters the rewards are much greater. Two strong advocates of green technology are Robert Frost is the business manager for the IBEW local 440 in Southern California, and David Shankle the executive vice president for NECA's Southern Sierras chapter. Together they represent the Inland Empire Labor Management Cooperation Committee (IELMCC.)
Both men and, more importantly, the organizations they represent, strongly support the NAAWP and the making of public facilities more energy efficient without waiting for government subsides or funding. Shankle said," We made the commitment up-front to sponsor the first five projects in both Riverside and San Bernardino Counties." He says San Bernardino doesn't have anything yet, but they are hoping some projects will come forth and ask for the funding soon. "The money's there," Shankle said. "All you need is to step up and ask for it."
Speaking, Thomas Wither, founder of the NAAWP, he explained that his organization raises money for "cash-strapped" public agencies so they can transition over to clean technology and energy efficient systems, such as induction lighting and electric vehicle (EV) charging stations. The NAAWP has completed projects in both Royal Oak and Dearborn, Michigan. The Dearborn project includes an electric vehicle charging station and 25 high-efficiency lights installed at the Henry Ford Centennial Library and the installation of one EV charging station and 102 induction lights at the west Dearborn parking decks.
Robert Frost of the IBEW says the National Joint Apprenticeship and Training Center (NJATC) in San Bernardino is training their members for the "qualified" installation of many of these cost-effective energy saving upgrades like advanced lighting systems and EV charging stations. "We have close to 500 apprentices going through the program, and we also put continuous classes on for our journeymen," he said. Speaking for NECA, Shankle thinks it is important for cities to seek out skilled professionals for that same reason. "We want to make sure these are installed by qualified contractors and electricians so that these systems work the way they should," he said. EV charging stations have a high energy output and Shankle stresses municipalities should always put safety first.
The Riverside Municipal Airport is also working with the NAAWP, NECA and the IBEW to retrofit about 20 parking lot lights with new, energy efficient, induction fluorescent lighting systems. These lights will reduce electricity consumption by 60% while reducing the airport's operating costs and carbon footprint. On top of that, Frost says using local qualified electricians and contractors to install and maintain these energy efficient improvements strengthens the community. In order to realize the dream of a clean, economically sustainable future, urban centers, municipalities and other communities will require not only planning and funding of these systems, but a workforce capable of building and maintaining them.
Contact:
Sean Reynolds
Info(at)eimag(dot)org
951-781-8624