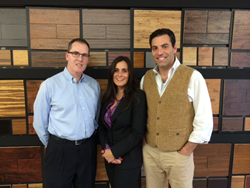 We are on pace to deliver simplicity, trust and confidence to all New Yorkers, which begins with incredible design artisans, unique floor offerings and honest pricing.
Westchester, NY (PRWEB) March 20, 2014
simpleFLOORS is expanding into New York with the introduction of simpleFLOORS Westchester, marking simpleFLOORS' first store location in the New England market. The new simpleFLOORS Westchester store will feature a grand showroom that exhibits over 100 options of premium hardwood, cork, laminate and bamboo flooring.
SimpleFLOORS Westchester will be owned and operated by David Simon, while Bill McHale will operate as CTO. It will be the first location in a chain of simpleFLOORS stores that are proposed to open in New York this year. Simon states that his primary initiative for simpleFLOORS is to be the global leader in flooring and to present solutions to flooring customers by keeping the shopping process simple. These goals are reinforced with a strong work ethic and desire to build confidence in simpleFLOORS' products while creating long-lasting relationships.
"We are on pace to deliver simplicity, trust and confidence to all New Yorkers, which begins with unique floor offerings, incredible design artisans and honest pricing," Simon explains. "Because of this, I believe simpleFLOORS will do magnificently in the New York market."
Simon and McHale possess fundamental expertise in the flooring industry, with over ten years of combined retail and customer service experience. Each hold themselves accountable for delivering efficiency and sophistication to New York buyers, and expect that New York consumers will be pleased with the quality of simpleFLOORS' product selection and factory-direct pricing.
simpleFLOORS Inc. is an Atlanta-based, factory-direct online retailer with 15 showrooms in California, Oregon, Washington, Georgia, Florida and Vancouver B.C, offering premium-grade design-conscious wood flooring at guaranteed low prices. Guided by fresh insights from the interior design community, including new color trends, depth-enhancing hand-sculpting techniques and distinctive grain treatments, simpleFLOORS contract-manufactures, imports, sells and ships direct to residences, business addresses and construction sites for pick-up anywhere in the U.S. and Canada.
From engineered exotic species to laminates, bamboo and cork products, simpleFLOORS respects the environment and carries a wide range of sustainable, renewable, durable and long-lasting wood flooring options.
Contact simpleFLOORS at 800-220-7112 or visit the simpleFLOORS website at http://www.simplefloors.com