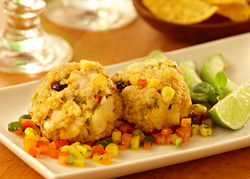 They are sure to increase beverage sales!
Salisbury, MD (PRWEB) March 12, 2014
Handy introduces three new "handcrafted" products to its Gastropub Collection of Social Seafood. All offer versatile menu options.
The Pitmaster BBQ Shrimp Cakes combine the perfect blend of shrimp and cheddar with scallions, red and green peppers and other ingredients along with just the right amount of tasty hickory smoke flavor.
The Fiery Shrimp Risotto Frito, inspired by the Italian "Fra Diavolo" brings the heat of spicy peppers combined with a traditional tomato base along with Parmesan and gooey mozzarella, creamy risotto and lots of shrimp along with a delightful blend of seasonings.
The Fiesta Chipotle Fish Cakes combine large flaky pieces of Pacific cod, zesty chipotle chili peppers, black beans and other seasonings for a delicious treat that tickles your taste buds. This new cake is a finalist in the New Product Showcase at the Seafood Expo North America in Boston this month.
According to Nikki Trzeciak, Handy's Executive Chef, "restaurant operators will love these new 2 oz. products because they provide so many different opportunities for menu placements including the very popular small plates/sharing plates, appetizers, and add-ons. They are sure to increase beverage sales!"
It's Handy! Eat Happy!
Handy International is a family-owned company and is America's oldest seafood processor. Products include soft crabs, crab meat, crab cakes, crab specialty items, oysters and artisanal fish. Visit http://www.handyknowscrab.com for more information about the company.