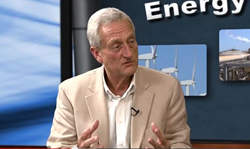 This is a failsafe project," Wither explains. "Nothing will be installed unless we find a credit worthy sponsor to put up the money first."
Riverside, CA (PRWEB) March 14, 2014
Sean Reynolds of Energy Independence Magazine recently spoke with NAAWP founder, Thomas Wither, about his project and their plans for making Southern California more energy efficient.
The National Adopt-A-Watt Program (NAAWP) began in Royal Oak, Michigan. "Instead of giving sponsors recognition for picking up litter alongside of the road, we give them recognition for supporting clean tech and energy efficient projects for financially challenged public institutions," said founder Thomas Wither. The sponsors in turn receive recognition through signage placed in proximity of their contribution. The NAAWP has completed projects in both Royal Oak and Dearborn, Michigan.
The Dearborn, Michigan project included an electric vehicle charging station and 25 high-efficiency lights installed at the Henry Ford Centennial Library parking lot. Twenty-five corporate, organizational, and individual sponsors in the Dearborn community paid for both projects. This was the second Adopt-A-Watt project for the city. The first was in 2011 and involved the installation of one EV charging station and 102 induction lights at the west Dearborn parking decks. The Michigan projects are also supported by NECA and the IBEW.
The Southern Sierras Chapter of the National Electrical Contractors Association (NECA) and the International Brotherhood of Electrical Workers (IBEW) have announced that they will sponsor 10 Adopt-A-Watt projects in Southern California: five in San Bernardino County and five in Riverside County. National Adopt-A-Watt Program founder, Thomas Wither, excited by the offer, said, "We're thrilled to have their support right out of the gate. What they have done is generously offered to support the first five agencies to raise their hand, if you will, in both San Bernardino and Riverside Counties.
The first project is the Riverside Municipal Airport which will retrofit 20 parking lot lights. "The new lights will reduce electricity consumption by 60% while reducing the airport's operating costs and carbon footprint," Wither says. They are also working with the Temecula Unified School District which will retrofit approximately 100 parking lot lights on district campuses significantly reducing the district's operating costs.
All of the projects, Wither says, are funded without costs to the host or the taxpayers. The program is designed to help municipal agencies, recognizing the need to become energy efficient, but that are unable to raise start-up funding. "Upfront costs are the greatest detriment to moving forward with energy efficiency," Wither says. Individual projects are first assessed on feasibility, and then the NAAWP marketing team finds sponsors. "This is a fail safe project," Wither explains. "Nothing will be installed unless we find a credit-worthy sponsor to put up the money first."
The NAAWP hopes to build upon the momentum of their first two projects by continuing to focus on airports and school districts. Wither says, "Airports are every community's showplace to the world." Linda Gray of "Dallas" fame is on the NAAWP advisory board. About schools, Wither quotes Gray, saying, "Education is the key to change." He says the actor and former UN Ambassador believes as he does that, "we've got to change to a truly clean and sustainable source of energy." "Airports are a wonderful place to do that. It's recognizable what's going on," Wither says. "Sponsors like the IBEW and NECA are supporting that. It makes the travelers think; maybe I should be doing this in my home or my business."
Contact:
Sean Reynolds
Info(at)eimag(dot)org
951-781-8624