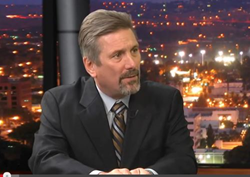 It was difficult to find qualified employees in the Los Angeles area. Riverside has a surplus of quality people that live here.
Corona, CA (PRWEB) March 17, 2014
Peabody Engineering Owner Mark Peabody told California CEO Magazine about how his family's firm found a goldmine of human capital, and an outstretched helpful hand from the City of Corona in Riverside County, CA.
Peabody Engineering started in Gardena, CA, in 1952. They developed an extensive line of tank solutions for their customers, and started a proprietary line of pumps and other products now distributed on a national basis. In the 1990's, they found a need for fabricated fiberglass products, especially in the telecommunications market, Peabody said.
They devised a system of integrating ugly cellular antennae into buildings and concealing the antennae with radio frequency compatible materials that wouldn't impede the signals of mobile phones. "It was undetectable because our enclosures architecturally match the buildings precisely," he said. "So the person passing by would not even know the antennae are there."
More recently, they also developed a cloud-based tank level monitoring system which can be installed without the need of external power or Internet connectivity. The cutting edge system combines a self- contained level sensing device, an embedded cellular device, and a GPS device which can be screwed into any tank. Then once a day, the system reads the level of a tank and transmits the data via the cloud through the Internet to a secure website. It enables the user to remotely monitor all tanks in a system from a laptop at home or the office. It will even send a text alert when the tank needs to be refilled.
It fills an unmet need in the market, Peabody said. For instance, a logistics company can use the system to monitor restaurants grease tank levels to determine when to pump out the tanks. Restaurants, likewise, can use it to accurately measure how much grease is pumped out to ensure they are paid in full for the waste product now used to produce biofuel.
Peabody Engineering also found moving from Gardena to Corona was another key component to the firm's success.
"It was difficult to find qualified employees in the Los Angeles area," he said. "Riverside has a surplus of quality people that live here. There are college educated qualified people that are here that don't want to drive out the 91 (freeway to LA) every day. So we have a surplus of quality candidates for fulfilling our growing business needs."
The Peabody brothers also found the Corona Chamber of Commerce especially helpful in understanding the culture of City Hall and the community. "They care about the economy and they care about the families in Corona," he said. "If I ever have a need, a problem, a regulatory issue, a zoning problem, if I need to find a good banker, whatever the case is, I know I have unlimited resources through my chamber."
The brothers also learned all of Riverside County's major transportation corridors kept them centrally located without being in the hustle and bustle of the LA inner city.
"We have many suppliers here in town," he said. "We're able to operate on a much more cost effective basis because of insurance rates, average salaries, and transportation costs here – just many reasons for why Corona is an ideal place to operate a business."
CONTACTS:
mark(at)etanks (dot) com
951.734. 3759