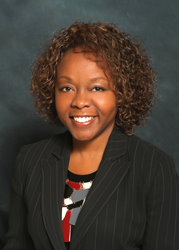 "I live by the motto 'to whom much is given, much is expected.'"
Long Beach, California (PRWEB) March 12, 2014
The Board of Trustees of Delivering Better Lives (DBL), a charitable foundation supported by UTi Worldwide and its employees, announced the appointment of InaMarie Johnson to the Board for a two year period. Johnson is UTi's Senior Vice President and Chief Human Resources Officer.
The UTi foundation, started in 2007, provides facilities to deliver education, health services, housing and other community infrastructural needs, according to Glenn Mills, DBL founder and executive trustee. The Board of Trustees receives recommendations for potential projects from UTi employees in the 59 countries where UTi has offices.
"The employees of UTi, through their monetary and personal support, make a worthy impact in the global communities in which we operate," said Johnson.
"I live by the motto 'to whom much is given, much is expected' so I am thrilled to have a chance to share my service, talent and time," she added. "DBL believes that everyone on this planet has a right to a roof over their head, food in their stomach, an education and basic healthcare," said Mills.
Recent DBL projects completed included security fencing around a children's home in Boonchu Thailand; electric wheelchairs for disabled youth in Mexico; renovating a girls school in Amman, Jordan and providing essential hospital equipment and goods to Nyaure Centre in Zimbabwe.
"Projects are funded through donations raised by UTi employees through special events all over the globe reflecting our geographic and cultural differences," Mills said, "from golf tournaments in Spain, to a marathon skating event in the Netherlands, bake sales and luncheons to team walkathons in cities across the world."
For more information on DBL, go to: http://www.go2uti.com/delivering-better-lives.
About UTi Worldwide
UTi Worldwide Inc., http://www.go2uti.com, is an international, non-asset-based supply chain services and solutions company providing air and ocean freight forwarding, contract logistics, customs brokerage, distribution, inbound logistics, truckload brokerage, and other supply chain management services. The company serves a large and diverse base of global and local companies, including clients operating in industries with unique supply chain requirements such as the retail, apparel, chemical, automotive, pharmaceutical, and technology industries. The Company seeks to use its global network, proprietary information technology systems, and relationships with transportation providers, and expertise in outsourced logistics services to deliver competitive advantage to each of its clients' supply chains.