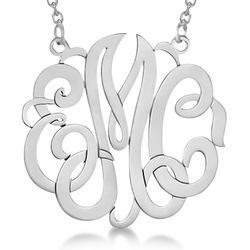 Monograms and initial pendants are part of a growing fashion trend that includes completely personalized jewelry creations.
New York, New York (PRWEB) March 13, 2014
What do Rhianna, Taylor Swift, and Jessica Simpson have in common? They all wear customized, monogrammed necklaces, both in and out of the spotlight. Monograms and initial pendants are part of a growing fashion trend that includes completely personalized creations for just about any jewelry category you can think of.
Savvy jewelers are really taking advantage of this trend with an emphasis on Generation Y, also known as Millenials* - shorthand for anyone born between the 1980's and 2000's. This Internet generation is considered by many to be the most self-absorbed to date. Along those lines, it makes sense that this demographic is looking for "me" jewelry. And what better way to honor oneself than with personalized jewelry like monograms, name plates and individual initials?
An Allurez company executive indicated customers will enjoy many new custom designed monogram jewelry items including monogrammed necklaces, earrings and bracelets, all at up to 50% off retail prices. From very fancy engraved initial circle monogram pendants to bold-faced all cap cufflinks, personalized scrolled fashion rings, and three-initial monogram earrings, their range of personalized jewelry is designed to accessorize for all occasions.
According to the Allurez executive, their online design your own engagement ring section makes it easy for complete customization - from choosing the diamond to selecting the perfect setting. In addition they have an entirely updated alternative bridal section with lovely moissanite engagement rings and bridal sets.
About Allurez.com:
Operating as an innovative and robust designer and retailer of exceptional jewelry from the heart of NYC, Allurez is recognized for providing the largest selection of designer style jewelry for men and women including engagement rings, wedding bands, bracelets, necklaces, pendants, earrings, and certified loose diamonds. Designed using the finest metals and gemstones, Allurez provides custom made jewelry for customers seeking the finest jewelry available.
For additional information about any of Allurez products including all customized jewelry, please contact allurez.com or call 1.800.554.3509 for details.
*The Poly Post Dec 2013- http://www.thepolypost.com/opinion/generation-y-the-selfish-generation/article_255e6d3e-5bef-11e3-b3e9-0019bb30f31a.html