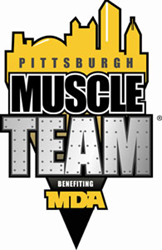 Pittsburgh, PA (PRWEB) March 11, 2014
Pittsburgh's professional athletes, local celebrities and military heroes are set to put their muscle behind finding treatments and cures for muscle disease at the 10th annual Muscle Team® event to benefit local children and adults in the Pittsburgh area served by the Muscular Dystrophy Association.
The high-profile fundraiser will be held at Heinz Field on Wednesday, March 12 from 5:30 p.m.to 9:30 p.m., pairing top Pittsburgh athletes, local celebrities and military heroes with an MDA Goodwill Ambassador (a local child living with a neuromuscular disease).
The event enables participants to mingle with coaches, athletes, MDA Goodwill Ambassadors, celebrities and top business executives. The evening will consist of interactive games, a silent auction, which will feature unique sports memorabilia, and a variety of food and beverage stations.
Among the athletes set to attend are: WWE superstar and longtime MDA friend Sgt. Slaughter®; former Pittsburgh Penguins star Mark Recchi; Steelers offensive lineman Kelvin Beachum, four time Olympic wrestling medalist Bruce Baumgartner and women's ice hockey goaltender for Team USA Brianne McLaughlin.
This year's Muscle Team Honorary Coaches are Morgan O'Brien, President and CEO of Peoples Natural Gas, and Executive Director of the Builders Guild of Western Pennsylvania Jason Fincke.
President and CEO of the Pittsburgh Transportation Group Jamie Campolongo will be presented with the 2014 Guy Buzzelli, Jr. Champion of Spirit Award.
Muscle Team 2014 will raise money for local families affected by neuromuscular disease to support MDA's programs of research and health care services, including sending children affected by muscular dystrophy and related diseases to a weeklong, barrier-free MDA summer camp.
For more information about Muscle Team® 2014, contact MDA Director of Business Development Cathy Majka at cmajka(at)mdausa(dot)org or (412) 823-3094.
About MDA
The Muscular Dystrophy Association is the world's leading nonprofit health agency dedicated to finding treatments and cures for muscular dystrophy, amyotrophic lateral sclerosis (ALS) and other neuromuscular diseases. It does so by funding worldwide research; by providing comprehensive health care services and support to MDA families nationwide; and by rallying communities to fight back through advocacy, fundraising and local engagement. Visit mda.org and follow us at facebook.com/MDAnational and @MDAnews.
– MDA –