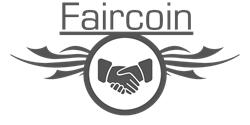 "Currently, individuals interested in the ability to buy Faircoin can visit FaircoinExchange.com"
Miami, FL (PRWEB) March 12, 2014
Faircoin has emerged as a new alternative cryptocurrency ('altcoin') with the goal of providing an ease of entry in to the cryptocurrency marketplace for the average user. The Faircoin algorithm has been developed with the purpose of limiting rewards to early adopters, thus solving the perceived disadvantages of other cryptocurrencies.
Faircoin has the ability to bring attention to the desirable properties of cryptocurrencies, while becoming its own traded commodity within crypto marketplace exchanges, such as FaircoinExchange.com.
The Faircoin blockchain is professing to make use of a uniquely developed computational algorithm that differs from the encryption used by Bitcoin (AES) or Litecoin (Scrypt) which claims to be resistant to intensive computational power such as ASIC or FPGA, while maintaining resistance to hashrate manipulation.
Faircoin Wallets and Marketplaces
At the current time, individuals interested in the rapidly developing activities surrounding Faircoin can make use of several resources. Below are links to the Faircoin wallet software, as well as an exchange where it is possible to buy Faircoin.
Official Faircoin Wallet URL: http://www.fair-coin.info
Exchange to Buy Faircoin: http://www.faircoinexchange.com
Official Bitcoin Forum Thread: https://bitcointalk.org/index.php?topic=487212.0
Fair Trades
Cryptocurrencies have solidified their place as precious numbers commodities traded on various exchanges at fluctuating rates, as proven by the listing of BTC on mainstream economic stock tickers. However, there has yet to emerge a cryptocurrency that is unique along the principle of being available to everyone without the technical barriers of entry faced by newcomers. Faircoin claims to solve this problem through shared distribution of generated coins to all users, allowing users to possess starting points for their assets and become familiar with the technology enough to eventually use for day to day commerce.
Cryptocurrency Panel Discussion at HackMiami 2014 Hackers Conference
The topic of Bitcoin, Litecoin, Faircoin, and other alternative cryptocurrencies will be the subject of panel discussion at the HackMiami 2014 Hackers Conference taking place in Miami Beach over the weekend of May 9 - 11, 2014. Last year, the 2013 cryptocurrency panel discussion was so comprehensive and detailed that it convened for a second time in Las Vegas for the Defcon hackers conference. This year, the panel returns for the latest installment in Miami Beach to examine and discuss the massive booms, busts, and global events that have surrounded cryptocurrencies over the last twelve months, and what developments are likely to be observed in the future.
The panel will feature analysts from BitcoinIntel, as well as known cryptocurrency advocates such as YTCracker, Alexander Heid, and others.
More information about the HackMiami 2014 Hackers Conference can be found at HackMiami.com.
About BitcoinIntel
BitcoinIntel.com, a subsidiary of HackMiami, is the first customized cryptocurrency intelligence service providing aggregate marketplace information and open source intelligence (OSINT) data sourced from exchanges, mainstream media, alternative news sources, and social networks. The data is presented in a custom dashboard format, providing analytic data on all aspects the cryptocommodity ecosystem.
The service seeks to assist cryptocurrency miners, traders, and consumers by providing updated marketwatch intelligence that can be used for mining decisions, trade intelligence, and diversification suggestions.