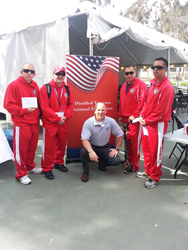 'The resilience that these men and women show in such difficult circumstances never ceases to amaze me,' said DVNF CEO, Joseph VanFonda (SgtMaj Ret.)
Washington, DC (PRWEB) March 12, 2014
The Disabled Veterans National Foundation (http://www.dvnf.org), a nonprofit veterans service organization that focuses on helping men and women who serve and return home wounded or sick after defending our safety and our freedom, is expressing its gratitude at the opportunity to take part in the 2014 Marine Corps Trials, which were held this past week.
DVNF sent hygiene supplies, sheets, and athletic towels to the event to give out to the wounded warrior athletes. In addition, the organization gave out a total of 200 Visa gift cards worth $50 each to assist the athletes with any extra necessities they needed throughout the event. The total value of donated supplies and direct cash support equaled more than $22,000.
The organization's presence at the event was intended as an outreach opportunity for the wounded veterans participating in the event. Staffers of DVNF were on hand to present the Benefits and Resources Navigation (BaRN) initiative that goes to help veterans get connected to the many resources available to them, and to let them know of any benefits they may need through the VA.
"We wanted to go to the event and let these wounded warriors know that DVNF is here to help," said DVNF CEO, Joseph VanFonda (SgtMaj Ret.). "The resilience that these men and women show in such difficult circumstances never ceases to amaze me, and the DVNF staff left the Trials with a renewed sense of gratitude for all of their sacrifices."
The Disabled Veterans National Foundation exists to change the lives of men and women who came home wounded or sick after defending our safety and our freedom.
For more, go to http://www.dvnf.org