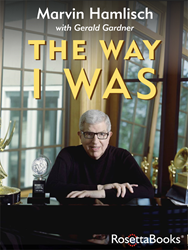 New York, NY (PRWEB) March 12, 2014
Few artist-entertainers can claim the success Marvin Hamlisch achieved before he passed away in 2012 at the age of 68. The child prodigy, who was admitted into the Juilliard School at the age of seven, is one of only two people to receive an Emmy, Grammy, Tony, Academy Award and a Pulitzer.
In his remarkably entertaining autobiography, The Way I Was, Hamlisch and freelance writer Gerald C. Gardner reveal poignant moments from his gifted childhood, his enduring marriage and his fruitful friendships with Hollywood stars like Liza Minelli, Barbara Streisand and Groucho Marx.
Coming to prominence during the 1960s with Billboard Hot 100 hits, Hamlisch got his start as a rehearsal pianist for Funny Girl with Barbra Streisand. He became best-known for the title song and score of the film The Way We Were, for which he won two (out of three) Oscars in 1973. He made his mark in the musical theater world with premiere of the 1975 musical A Chorus Line, where he wrote the music for the show.
Packed with wit and wisdom, The Way I Was eBook includes eight rare photographs and funeral tributes given by Hamlisch's wife, Sir Howard Stringer of the Sony Corporation and President Bill Clinton, among others.
Two days after his death in 2012, around 40 theaters dimmed their lights in his honor. Streisand released a statement that it was "his brilliantly quick mind, his generosity and delicious sense of humor that made him a delight to be around," according to the New York Times.
The Way I Was is available in the Kindle, Kobo, Barnes & Noble and iBooks stores for $9.99.
About RosettaBooks: RosettaBooks is the leading independent digital publisher. Its prominent author collections include 52 works of Winston Churchill, 35 titles by renowned science fiction author Arthur C. Clarke, 20 works by Kurt Vonnegut, 12 titles from international bestselling business author Stephen R. Covey and 18 works by Robert Graves, celebrated 20th century English poet, critic, and author of I, Claudius and Claudius, the God. RosettaBooks also publishes eBook lines in collaboration with AARP, Harvard Health Publications and Mayo Clinic. Publisher of ten Kindle Singles, including Ray Bradbury's The Playground, RosettaBooks has launched nine of them to bestseller status. RosettaBooks is an Inc. 500 company, on the exclusive list of the fastest growing private companies in the United States. For more information, please visit RosettaBooks.com and follow the e-publisher on Facebook and Twitter.