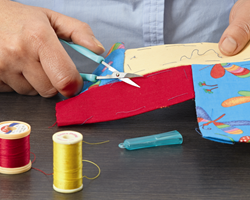 Scissors are a simple tool, but few people realise how hard it is to use them when you're living with a physical disability.
(PRWEB UK) 20 March 2014
As sewing and crafting have become increasingly popular, the phenomenon has also raised awareness of how difficult these activities can be for those living with disabilities. 1 in 3 people in the UK will suffer from arthritis at some point in their lives, 100,000 people in the UK are living with multiple sclerosis, and 58% of last year's 150,000 UK stroke survivors have emerged with some form of disability – all of which, collectively, makes crafting extremely difficult for a large proportion of our society.
The intricate, skilled movements required for sewing, knitting, flower arranging, and other forms of craftwork become much more difficult in the face of pain and reduced dexterity, and without the best tools to help, a large proportion of arthritis sufferers struggle to continue and many keen craft workers feel forced to give up their hobbies.
"Scissors are a simple tool, but few people realise how hard it is to use them when you're living with a physical disability," says Peta UK's Genny Crockett. "We've designed our Mini Easi-Grip® Scissors to be self-opening and operated without the use of a thumb, so that even those with limited thumb use or sensation can cut a thread using a single digit and their palm."
As long as users can lightly squeeze the scissors shut, the blades will automatically reopen as soon as the grip is released, creating that snipping motion which is very difficult to achieve with swollen joints when using standard scissors.
Peta UK is well known for its quality range of specially adapted scissors, which founder Lionel Crockett began developing in 1975. Peta's range of Easi-Grip® scissors has since become an essential part of this established and well-loved brand.
"Before now, it was very difficult to find specialist scissors in the UK, especially for less than £5," Genny continues, "and sourcing a specially adapted version of the finely pointed scissors required for sewing was virtually impossible. We're incredibly pleased to be able to offer that facility and help Great British sewing bees to keep learning and enjoying their craft skills."
Adult Mini Easi-Grip® Scissors are available from http://www.peta-uk.com, and cost £3.95 (plus £1.95 P&P). For further information, please visit the PETA UK website.
Editor's Notes:
More images available.
Peta (UK) Ltd. has been designing products for children and adults with special needs since 1975. Recent product development has focused on providing highly attractive ergonomic products which not only assist independence but make life easier for everyone. For further information about the company and product range visit http://www.peta-uk.com.