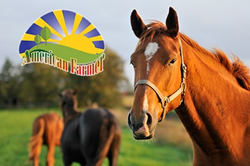 Jupiter, FL (PRWEB) March 12, 2014
DMG Productions is currently gathering content for next quarter's programming as they prepare to take viewers on an entertaining and educational journey inside the world of equine health. This two part series will be presented commercial free and there will be several topics addressed covering a wide spectrum of areas surrounding horse health and the industry. From dental care to farriery; reproductive health to joint care and beyond, these special edition episodes will explore it all.
"The driving force behind this episode is to take a closer look at some of the industry leaders and how their products, services and technologies are contributing to long-term horse health and quality of life," said Ryann Watkin, producer for the series. "Most of the major health problems plaguing horses today could be easily cured or prevented if there was more education out there for the Equestrian," she added.
Charlie Cowan, executive producer for the series said, "Take hoof care for example. There are many companies that supply products for horse hooves, because the hoof is essentially the foundation of the horse; it is the basis from which many other health concerns stem. Proper hoof care prevents strain on the joints—another major issue in equine health. Proper nutrition from the start is essential is preventing both of these aliments."
According to Mary Boyce, DVM, maintaining a horse's nutrition can help alleviate some hoof problems. Feeding good quality hay, supplementing the appropriate amount of vitamins and trace minerals, and making sure the horse has constant access to fresh, clean water is important for hoof health and overall horse health. Poor nutrition can lead to future hoof problems, and correcting a horse's nutrition can gradually improve hoof health. Cooperation between horse owners, veterinarians and equine nutritionists is needed to ensure proper horse nutrition.
This special edition of American Farmer is sure to educate and enlighten both the equine industry as well as the general television audience. Broadcast is scheduled for this summer and will run on a combination of RFD-TV and FamilyNet. Dates and show times TBA.
About American Farmer:
American Farmer is a breakthrough program on a mission to showcase the latest advancements in agriculture and farming. From seed to harvest, livestock and more, our producers have traveled the country covering the people, places and issues impacting all areas of farm country.
American Farmer airs Tuesdays at 8:30am ET on RFD-TV as well as Tuesdays at 12:30pm and Saturdays at 1:30pm ET on FamilyNet.
For more information visit: http://www.AmericanFarmerTV.com or call (866) 496-4065.
Media Contact:
Ryann Watkin, Producer / American Farmer
(866) 496-4065 x 813 / ryann(at)americanfarmertv(dot)com